1947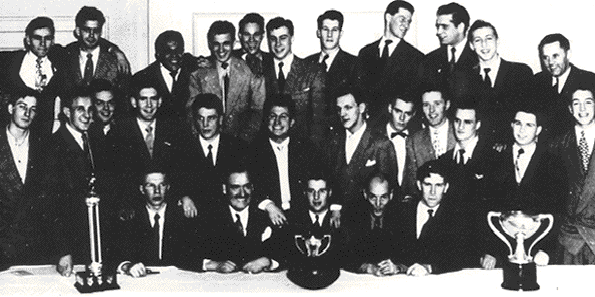 Front Row: Art Lett, Harry Lawrence, Edgar Mott, ????, Jim Birmingham
Second Row: ????, George Bossy, Jack Cornforth, Ken Jones, Andy Lecesse, Mike Daley, John Petlyk, Alton "Billy" Smith, Fergie "Scottie" Gunn, Sam Salvatore, Jim Britton, Don Mcquestion
Third Row: Ken Roberts, Pete Sembenelle, Danny Johnson, Ross Baldwin, Vic Curtiss, George Valois, Don McLaughlin, Don McCulloch, Bill White, Bill Bastien, Charlie Johnson
Missing: Bob Iredale, Bob Gibson, Arnie Epstein, Don Bunker, Bill Davies, Solly Mastro
Article from "NDG Monitor" March 23,1947
Meeting called For Mon. At NDG Park Clubhouse
Groundwork For Coming Season On Bill Of
Discussion; Inter, Juvenile Squads A Possibility
By Red Fisher
NDG football enthusiasts don't intend being caught with their cleats down, when the fall season rolls around, is the report emanating from local football headquarters.
Don Toohy, manager of the NDG Maple Leafs, 1946 Provincial Junior Champs, today announced that the club executives intend holding their first unofficial meeting at the NDG Park clubhouse on Monday evening.
Rather early to discuss football on a March date? "Not by a long shot," says Toohy. "They say that people learn by experience. Well, our club learned last year the numerous troubles and set-backs that can be-fall an organization who have waited too long before starting the ball rolling. During the 1946 season, everything was hit-and-miss. Not so this year, however. Numerous meetings throughout the spring and summer seasons will see to that. This Monday, Toohy went on, we intend laying the groundwork for our '47 combine. In fact, there's a strong possibility that NDG will have, in addition to a Junior squad, an Intermediate and Juvenile team. However, there's nothing definite about that, simply a possibility."
It was further reported that an all-year-round recreation program for NDG youngsters, was in the planning stages, with headquarters to be at Glen Brown's Knowlton Farm. Brown's farm is fast becoming one of the most popular camps for youngsters in the province, with the extensive athletic program to be encountered there playing no little part in its popularity.
The local citizenry haven't forgotten the fine showing displayed by their Junior footballers during the '46 grind, their initial fling at QRFU competition, and it is expected that local teams will be backed more than ever during the coming fall schedule.
Councilor Jack Lyall is expected to be present at Monday evening's meeting, together with Glen Brown, Solly Mastro, Gordie O'Dell, Charlie Naylor, Tommy Piazzo, and a number of members of last year's executive.
Article from "NDG Monitor" April 3, 1947
By "Red" Fisher
Organization of NDG Footballers Well Underway
Groups formed To Direct Each Planning Phase
Jim O"DeIl Heads Executive Committee; John
MacDonald, Publicity; Davies to Coach
By Red Fisher
The NDG Football Club hammered in another important nail into their new building venture last Monday evening. at the N.D.G. Park clubhouse, where a large and enthusiastic gathering attended the club's first official meeting.
"We had a swell turnout," uttered Don Toohy, the effervescent club manager, "and the interest shown in the affairs of the club was highly encouraging.
"A large bundle of work and organizing was taken care of at that first meeting," Toohy went on, "including the formation of several committees to take care of several phases of our planning."
Chairman of the executive committee is Jim O'Dell, who, together with Bill Soden and Sid Scott, both former footballers of note, will be undertaking the task of familiarizing more of the local citizenry in the team's affairs. "And, incidentally, anyone minutely interested in our organization is cordially invited to attend our next meeting, to be held on April 8, at the N.D.G. Park clubhouse," says Donald.
"Then there's our publicity committee, headed by Johnny MacDonald, and including Tommy Tomasso and myself.
We also have a playing field executive, whose duty it will be to see to it that we obtain suitable playing fields. Heading this committee will be Phil Wimmer, working in conjunction with George Mantha who, by the way, has bestowed his blessings on our club, and has promised to help us in every way he can.
A player's committee was also formed at the meeting, designed to help recruit footballers for our Intermediate and Junior teams. Edgar Mott will have the West Hill territory under his protective wing, Ralph Toohy, Loyola, Arnold Epstein, Catholic High, and Buddy Iredale, Westmount.
Bill Davies will be in charge of the coaching duties this year, and will have as assistants, Ian Barclay, Solly Maestro, and Bill Soden, who incidentally, has acquired quite an enviable record along coaching lines during the past few years.
And so for the nonce, however, don't forget our next confab on April 8, at the Notre Dame de Grace Park clubhouse.
Article from "NDG Monitor" April 10,1947
N.D.G. Gridders Choose Coaches For Team
Sodden, Davies Maestro To Lead Inters, Juniors
Davies Here After Fine Career
Sodden, Former M.A.A.A. Grid To Take Over Intermediate Reins
The Notre Dame de Grace Football Club took another long step towards establishing a firm foundation for their coming grid season when it was disclosed this week that Bill Sodden, in all probability, will take over the reins of the Intermediate club, while Bill Davies and Solly Maestro will handle the Junior squad.
The official club elections will take place on May 6, the date which the footballers have set for their next meeting. As usual, the confab will be held at the N.D.G. Park clubhouse.
Bill. Sodden is no rookie when it comes to handling football teams. Sodden was recognized across the country in prewar days for his adept handling of those fine M.A.A.A. grid crews, masterminding a couple, of squads into Dominion finals.
Bill Davies comes into a coaching status after starring for Montreal Big Four entries when the city's attitude toward the game was just so-so. Reports have it that Verdun interests were after Big Bill to take over the New York Fashions, last year's Juvenile pacesetters, indicating the high esteem in which the amiable Davies is held.
WELL-KNOWN
No stranger to the local scene is Solly Maestro. Solly was the little man behind the scenes of the '46 N.D.G. Provincial Junior titleholders, doing a good deal of the work in the coaching of the team, and the handling of its affairs.
The club's acting executive also made it known this week that they are ready and waiting to welcome into the organization any individual interested in the club's affairs. The man to contact in that case would be team manager, Don Toohy, WA. 3187.
Article in "NDG Monitor" April 17,1947
Basketball Dance
A "Basketball Dance" with all proceeds going towards helping finance the NDG Football club, will be run off on Friday, April 25, at West Hill High School.
The affair will be the opening shot towards establishing the local grid organization on a sound financial basis. A basketball game will directly proceed the dance, starting at 7:30, involving Point St. Charles and a local all-star quintet.
Article in "NDG Monitor" August 28,1947
Junior Football Club Prepping for Debut
Practices Daily at Trenholme Park Under Coaches Bill Davies, Sol Maestro
The NDG Maple Leafs Football Club, which last season won the Quebec championship, began getting in shape for the 1947 grindout at Trenholme Park last Saturday. Since that time the boys have been out every night at 6:00 o'clock under the skilled tutelage of coaches Bill Davies and Sol Maestro. Already showing fine form are a trio of backfielders, George Valois and Sandy Spence, former Montreal High stars, and Edgar Mott, a mainstay of last year's team who used to sparkle for Roy Chesley's championship West Hill aggregations.
A surprise aspirant for a berth on the team, who has looked impressive, is Sylvio Marino, burly 215 pound linesman who's only 17 years of age.
Executive Elected
The club met at the Community Hall on Monday evening and elected the following executive: Jim O'Dell, honorary president; H. Lawrence, president; Charlie Bray, first vice-president; Solly Maestro, second vice-president; G. Johnson, secretary; Wilf Harrison, treasurer; and D. Hopper.
Harry Lawrence and Charlie Bray represented the local club at the QRFU meeting held Tuesday evening. The meeting saw the following teams intermediate section entries accepted: Quebec Swimming and Athletic Club, Sherbrooke, Comets, McGill, Dawson, Eastward and Rockland. Verdun Grads are withdrawing from the league for one year. The Quebec Swimming and Athletic Club and Comets, a French-speaking team, are new intermediate section entries.
Junior Section
The Junior section will be comprised of seven team this season. They are: Westmount, NDG, Lakeshore St. Lambert, Eastward, Rosemount and New York Fashions, a Verdun team.
The following teams who were in the junior section 1946, will not be back for this season: Lachine, Mustangs, Loyola, Holy Cross and Rockland.
Article in "NDG Monitor" September 4, 1947
Matt Del Vecchio Trying Out with Maple Leafs
Colorado State University's loss this year Is N.D.G. Maple Leafs' gain. Matt Del Vecchio, all round local athlete, is out with the local entry in the Junior Q.R.F.U., who are defending the title they won last year.
The appearance of Matt, who is trying out for a backfield position with the Leafs, rounds out a strong and fast back line with the appearance of Sandy Spence, last year with the Westmount entry, and the return of the outstanding rear guard pair from last year's championship team, George Valois and Edgar Mott.
Average weight of this fast stepping quartet is over 165 lbs. All four players have reported in tip top shape after an active summer of sports which have helped them keep their swivel hips in good working order.
On]y about eight of last year's champions are over age this year which should mean that with the addition of the newcomers who will make the team; the locals will have another real entry in their section.
Booster Club Idea Popular
Residents in N.D.G. and district, have been besieging President Harry Lawrence for membership in the Booster Club which is being formed to help the local team in their drive for a repeat performance this year.
President Harry assures everyone that the membership cards, and official receipts, will be ready within a week and that contributions can be made to any member of the executive, or to any of the team members. A temporary receipt will be issued by the recipient, followed by an official receipt from the treasurer.
Article in "NDG Monitor" September 25,1947
Maple Leafs Win Opener
NDG Maple Leafs, defending champions of the Lynch and Bunny Sabbath Trophies, got off to a rousing start by trouncing Westmount 29-0 Saturday afternoon in the opening game of the Q.R.F.U. Paced by starry George Valois, who notched two touches, the local squad rolled to an easy victory over the Westmounters in a game played at Westmount Park.. Al Smith, Arnie Epstein, and Bill Bastien also accounted for majors. Fergus Gunn, booted two singles as Bob Iredale and Valois one each to complete the scoring.
Nearly 2,000 fans watched the Maple Leafs garner a 7-0 lead in the first three quarters and then pile up 22 points in the last quarter to complete the 29-0 rout.
Article in "NDG Monitor" October 9, 1947
Maple Leafs Meet Fashions At Trenholme on Saturday
Team Keeps Undefeated Record Intact By Swamping Lakeshore 36-1
N.D.G.'s undefeated and untied Junior Maple Leafs will play host to New York Fashions this Saturday afternoon at 2.30 at Trenholme Park. The Fashions lads, who hall from down Verdun way, boast a won one, lost one record.
N.D.G. had little difficulty extending their win streak at the expense of Lakeshore last Saturday when they ran up an impressive 36-1 victory.
The NDG'ers went into a lead they never relinquished midway through the first quarter when Curtiss toted the leather into pay dirt territory for a five-pointer. The convert failed.
In the second quarter MacQuestion ran the count up to 10-0 when he went over. Valois made the convert good and before half-time Britton went over for another five-pointer to up the score to 16-0.
Lakeshore broke into the scoring column shortly after the resumption of play in the second half when Hood, who stood out throughout the contest for the losers, booted a single. That was all the scoring in the third quarter.
The locals found the range again in the final stanza, however, as Iredale, Valois, Daley and Johnson all went over for majors, none of which were converted.
Line-ups
N.D.G. Maple Leafs Lakeshore
MacQueston Quarter Hood
Valois Half Munroe
Birmingham " Parsons, W.
Askew " Fehr
Bastien " Lowery, C.
Epstein Snap Wardrope
Lecesse Inside McKellar
Cornforth " Blair
Smith Middle Thompson
Mallison " Labelle
Iredale Outside Wheatley, W.
Curtiss " Nevins
Alternates
N.D.G. - Britton, Gibson, McLaughlan, Johnson, Daisy, White, Bunker, Baldwin, McCullough, Lett, Salvatore, Sembenelle
Lakeshore - Blackshaw, McAuley, Martin, Smith, Bermingham, Raitt, Wheatley, G. Colombe.
Scoring Summary
1st Quarter - NDG; Touch, Curtis; points 5
2nd Quarter - NDG; Touch, MacQueston, points, 5; Convert, Valois, points 1; Touch, Britton, points 5.
3rd Quarter - Lakeshore; Rouge, Hood, points, 1.
4th Quarter - NDG; Touch, Iredale, points, 5; Touch, Valois, points, 5; Touch, Daley, points 5; Touch, Johnson, points 5; total N.D.G. 36, Lakeshore 1.
League Standing
Team P W L F A P
N.D.G. 2 2 0 66 0 4
Westmount 3 2 1 30 34 4
Lakeshore 1 1 0 8 0 2
N.Y. Fashions 2 1 1 10 12 2
Eastward 2 0 2 0 30 0
Rosemount 2 0 2 4 42 0
First cup-tie elimination: N.D.G. 36, Lakeshore 1.
Article in "NDG Monitor" October 16, 1947
Maple Leafs Eke Out 10-3 Win Over Fashion
NDG's Junior Maple Leafs never came closer to defeat than they did last Saturday afternoon at Trenholme Park when an injury-riddled New York Fashions club outplayed and outfought the Maple Leafs but went down to a 10-3 loss. The Fashions crew, with four of their players inactive due to injuries, brought up a number of juveniles for the game and put on a game display. Jim Britton opened the scoring in the first quarter when he plunged through the middle for a major. George Valois upped the count to 10-0 in the third canto when he bulled his way across the payoff stripe.
Fashion's Ed McLeod, who played a sterling game Saturday, finished the game's scoring when he booted a placement in the fourth quarter.
Article from "NDG Monitor" October 30, 1947
NDG Gridders Top Rockland
Down Undefeated Intermediate Team
NDG Maple Leafs, currently riding the crest of the Junior Q.R.F.U. standing will wind up their regular schedule this Saturday at Trenholme Park when they play the winless Eastward outfit. The NDGers will be out for their fifth straight win.
The game has been called for 2:15 and there will be a drawing for a radio at half time.
Last Sunday the locals took on the undefeated Rockland team of the Intermediate League, and despite the fact that they were outweighed on an average of 20 pounds to a man, handed the big boys a decisive trimming.
Following are the standings of the Junior League:
P W L D F A PTS
NDG 4 4 0 0 105 4 8
Westmount 4 2 2 0 35 40 4
Rosemount 4 2 2 0 34 52 4
Verdun 4 2 2 0 19 23 4
Lakeshore 3 1 2 0 14 53 2
Eastward 3 0 3 0 1 36 0
Article in "Montreal Gazette" November 3, 1947
NDG Maple Leafs Unbeaten in Scheduled QRFU Play
By Pat Curran
Notre Dame de Grace Maple Leafs finished their second straight QRFU schedule unbeaten and untied on Saturday afternoon by blasting Eastward Juniors at Trenholme Park. The high-scoring victory boosted the Leafs scorong sheet to read 151 points for, and a mere 4 against.
Dan Johnson and George Valois were the spark-plugs of the Maple Leaf backfield while Johnny Cornforth and Al Smith played strong games on the line. Red Russell, Billy Baktis and Bobby Waugh were the best for the losers.
Johnson opened the scoring in the first few minutes of play kicking to the deadline on second down. Vic Curtis completed a long pass from Johnson and Britton majored from the one-yard strip with Johnson converting. Pete Dicenso was rouged on Johnson's kick by Bunker and Sembenelle and Edgar Mott went 17 yards on an extension play to put the Leafs ahead by 13 points. Quick was behind the line after a bad snap and Baldwin made the tackle for a safety touch.
Eastward NDG
O'Connor Fly wing Britton
P. Dicenso Half Johnson
J. Dicenso Half Bossy
Russell Half Bastien
Quick Quarter Gibson
Bremner Snap White
Finnerty Inside Bunker
Connolly Inside Jones
Thomas Middle Lett
Desjardins Middle Cornforth
Brown Outside Sembenelle
Dever Outside Curtis
Article from "NDG Monitor" November 6, 1947
NDG Maple Leafs Wind Up With 46-0 Victory
The N.D.G. Junior Maple Leafs wound up their regular schedule activities last Saturday at Trenholme Park with a smashing 46-0 win over Eastward. For two consecutive years the local Junior entry has gone through its regular schedule without losing or tying a single game. This season the N.D.G.'ers amassed a total of 151 points while only four were scored against them.
Maple Leafs ran roughshod over the short-staffed Eastwards in two quarters, the first and the last, and only in the mid-sessions had any opposition. In the second and third the game Eastward outfit gave the westenders a real battle, twice holding on the one-yard line and threatening as well deep in home territory.
Dan Johnson and George Valois were the spark-plugs of the Maple Leaf backfield while Johnny Cornforth and Al Smith played strong games on the line. Red Russell, Billy Baktis and Bobby Waugh were the best for the losers.
Johnson Opens Scoring
Johnson opened the scoring the first few minutes of play kicking to the deadline on second down. Vic Curtis completed long pass from Johnson and Britton majored from the one-yard kick by Bunker and Sembenelle, and Edgar Mott went 17 yards on an extension play to put the Leafs ahead by 13 points. Quick was behind the line after a bad snap and Baldwin made the tackle for a safety touch.
Eastward held for three downs on their one-yard line at the start of the second quarter and took possession, with Baktis and Pete Dicenso moving the ball out to the 30-yard line. N.D.G. took over after Eastward kicked on third down and Johnson moved it up to the 5-yard marker. Bastien cut through centre for the third major making it 20-0. Two passes, Russell-to-Quick and Dicenso-to-Baktis moved Eastward up to the Leafs' 5 but they failed to go over.
Baldwin intercepted Russell's pass on the Eastward 40 at the start of the fourth frame, and Valois skirted the sidelines all the way for another major. MacQueston kicked to the deadline for a single. Askew recovered an Eastward fumble on the two-yard marker. MacQueston went over to make it 36-0. Britton majored from the one-yard line, and a 30-yard pass from Britton to Pete Sembenelle ended the scoring.
LINE-UPS
Eastward N.D.G.
O'Connor flying-wing Britton
P. Dicenso half Johnson
J. Dicenso half Bossy
Russell half Bastien
Quick quarter Gibson
Bremner snap White
Finnerty inside Bunker
Connolly inside Jones
Thomas middle Lett
Desjardins middle Cornforth
Brown outside Sembenelle
Dever outside Curtis
Eastward subs: Baklis, Blackburn, Lothian, Waugh, McElroy
NDG subs: Mott, Birmingham, Baldwin, Lecesse, Gunn, Askew, MacQueston, MacLaughlin, Pytlyk, Valois, Iredale, Smith.
Referee: Harry Ross. Umpire: Andy McGillis, Head Linesman: Dunc Smith
First Quarter
1-N.D.G. Single, kick to deadline (Johnson),
2-N.D.G. Touchdown (Britton),
3-N.D.G. Convert (Johnson),
4-N.D.G. Single (Dicenso rouged on Johnson's kick by Bunker and Sembenelle),
5-N.D.G. Touchdown (Mott),
6-N.D.G. Safety (Quick tackled by Baldwin),
Second Quarter
7-N.D.G. Touchdown (Bastien)
Third Quarter
8-N.D.G. Touchdown (Johnson)
Fourth Quarter
9-N.D.G. Touchdown (Valois)
10.-N.D.G. Single, kick to deadline (MacQueston)
11-N.D.G. Touchdown (MacQueston)
12-N.D.G. Touchdown (Britton)
13-N.D.G. Touchdown (Sembenelle)
Article in "NDG Monitor" November 13, 1947
Westmount Juniors Score 11-3 Upset Win Over NDG
Win Mud Battle At Westmount Park To Eliminate Leafs From Cup Hunt
By Brian Tiffin
A mud-soaked Westmount Junior football aggregation, enthused with that old fighting spirit by Bruce Johnson, made Q.R.F.U. pigskin history at Westmount Park last Saturday afternoon, when they downed a cocky N.D.G. team 11-3. It was the first time in two years that the Maple Leafs had gone down to defeat in competition in this province. The loss brought to an end the NDGers hopes of winning the Levine Cup. In the first quarter it looked like another N.D.G. win as the big and powerful Maple Leafs marched down field twice and went into a 2-0 lead on singles kicked by Fergus Dunn.
But then the talented toe of Doug McGillis came into play. After forcing the Maple Leafs down to their own 35-yard stripe on an exchange of kicks, McGiIlis hoisted a long one behind the NDG payoff stripe. The slippery ball was fumbled and Ray Binmore pounced on it for a touchdown. The convert attempt, a forward pass was incomplete. the score: Westmount 5, Maple Leafs 2.
McGillis Kicks Rouge
McGillis punted for another rouge after Bill Telfer had made two successive ten-yard runs to put the ball in payoff territory.
Don Jackson recovered a Maple Leaf fumble on the N.D.G. lads 15 to set the stage for the winners second major score of the fray. Jack Patterson whipped a pass to Pete Cox and the blonde outside went over standing up to make the count 11-2. Again the convert attempt failed.
The scoring came to an end in the third quarter when Dan Johnson kicked 35 yards for a single.
Westmount Jubilant
At the end of the game, the Purple and White players mobbed Bruce Johnson and the stars of the fray. The Maple Leafs, heartbroken at the unexpected loss, made for their bus quietly and quickly.
Every man on the Westmount team played a great game but outstanding were Ray Binmore, Pete Cox, Jack Patterson, Doug McGillis, Bill Telfer, Don Jackson and Ron Morrow.
THE LINE-UPS
WESTMOUNT NDG
Boright quarter Birmingham
Patterson flying wing Valois
D. McGillis half Mott
Kay half Dunn
Dryden half Gibson
Dudley snap White
McLeod inside Lecesse
Hicks inside Bunker
Jackson middle Cornforth
Mathers middle Smith
Morrow end Iredale
Binmore end Sembenelle
Westmount subs: Telfer, W. Morrison, Cox, Kunst, Young, Guilotte, I. McGiIlis, O'Brien, Brunt, Clark, Price
N.D.G. subs; McQueston, Mallison, Bastien, Johnson, Baldwin, Britton, Jones
JUNIOR PLAYOFF
N.D.G.'s first place Junior Maple Leafs meet Rosemount at 2 o'clock this Saturday afternoon at Trenholme Park in a sudden-death semi-final playoff encounter. The winner of this game will meet the winner of the Westmount-New York Fashions tilt, which will be played at Verdun Sunday, for the league championship.
Article in "NDG Monitor" November 27, 1947
Eastern Canada Title Game Called Off
Plenitude of Snow, Lack of Dough Make It No-Go
Hamilton Tigers Were To Come Here For Championship Clash;
Maple Leafs Win Quebec Title
By George Cochrane and Brian Tiffin
The N.D.G. Junior Maple Leafs have hit the end of. the gridiron trail for the year 1947. The proposed series with Hamilton's Junior Tigers, Ontario champions, for the Eastern Canada title has been called. This announcement was made yesterday by Harry Lawrence of the N.D.G. Club.
Mr. Lawrence listed two reasons for calling off the game, which was to have been played here in Montreal this Saturday. The first was that the Maple Leafs lacked the financial backing to guarantee the Hamilton team sufficient moola to pay for their traveling expenses. The second reason was Monday's heavy snowstorm.
The Leafs can now look forward to next season with some equanimity. A good many of the stars on this year's aggregation will be back.
Elsewhere on the Junior football front, Westmount will meet Rosemount at Westmount Park this Saturday afternoon in a sudden death game for the Levine Cup. The suburb city lads will enter the fray as slight favorites, despite a 6-5 setback the Rosemounters handed them a few weeks ago.
N.D.G. Maple Leafs, with their galaxy of stars and qualified reserves won the Q.R.F.U. Junior championship for the second straight year. They outlasted a hard driving Westmount team which could not take advantage of the breaks.
Danny Johnson was the out-standing star for the Maple Leafs as he combined his driving plunges with his talented kicking. George Valois was the mainstay of the attack, while Vic Curtis and Jack Cornforth sparkled defensively.
Westmount took a quick lead in the first quarter when Jackson recovered McQueston's fumble to set the stage for McGillis' forty yard punt where Valois was rouged by Morrow.
Then from their own 25 the locals marched up the field to the Westmount 20 on gains by Johnson, Birmingham and Valois. Then Valois scooted around end for a major.
Westmount sparked by Dryden and Patterson drove up to the Leafs five where McGillis booted his second single after two plays failed to make a yard. Westmount fought viciously in the second and third stanzas but the N.D.G. line held whenever in danger.
WESTMOUNT FORE
At the beginning of the last canto Westmount made their last attempt to score. They forced the Leafs down to their own 5 where Johnson kicked out to the 20. But Westmount's attack again fizzled out and Boright's drop-kick failed. Later in the quarter Johnson intercepted Kay's attempted pass and galloped 60 yards for a touchdown.
The locals then began to show their championship class as they marched down the field and Edgar Mott gathered in Britton's lateral and went over standing up to complete the scoring.
For the losers Bill Dryden, Doug McGillis, Jack Patterson and Wenty Young stood out.
Article in "NDG Monitor" December 4, 1947
Sports on Shorts
By George Cochrane
It now appears to have been a good thing that the N.D.G. Maple Leafs called off their Eastern Canada Junior grid title game. For a Canadian Press dispatch, dated Nov. 29, reads: "Hamilton Wildcats qualified for the Ontario Rugby Football Union junior finals yesterday defeating London Kiwanis 15-5, but Kiwanis coach Murray Griffin said he had protested the game. Griffin charged that three Hamilton players were overage." Not so good...
Article in "NDG Monitor" December 18, 1947
NDG Leafs to Hold Banquet For Champions
The NDG Maple Leafs, Junior Q.R.F.U. Champions will hold their own banquet this evening at the Canadian Legion Hall at 1191 Mountain Street. They have inadvertently scheduled their banquet on the same night as The City of Montreal's Dinner for Champions and so will miss out on this affair.