1951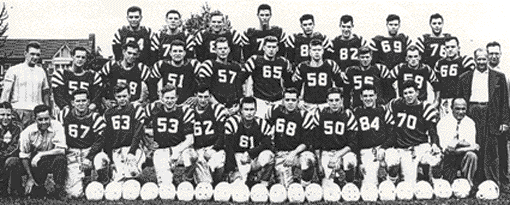 Front Row: Edgar Mott, Asst. Coach; Charlie Johnson, Secretary-Treasurer; Ross Greer; Ron Hutchinson, Ron Lamb, Gordie Long, Peter Dowie, Bill Melvin, Al Merrick, Pat "Chickie" Turner, Moe Martin, Solly Mastro, Head Coach
Second Row: Bill "Nookie" Smith, John Hersey, George Robertson, Red Herscovitch, Bill Leslie, Stan Easton, Bob Baird, George Economides, Harry Shugrue, Jack Stryde, Bill (Doc) Ingham, Trainer; ???, Finance Mgr.
Third Row: Norm MacLeod, Earl Murphy, Reggie Whitehouse, Alex Morrison, John Sante, Joe Cameron, Peter Woodfine, Tony Carmen
Missing: John Harris, Len Jones, George Meehan, Karl Hilzinger, Jeff Bridges, John Harvey
These are some memories of the old days submitted by Ross Greer.
When I played at Westmount the coach was Bruce Johnson, a
haberdasher on Sherbrooke. Bruce was a wild and crazy guy. At one Friday
night practise before a game our place kicker Eddie LaFontaine was hurt so
Bruce asked if anybody could kick converts. I'd never kicked a convert in my
life, but I was young and brash. I'd seen plenty of other people do it so I
piped up: "Sure Coach I'm your man." So in practise that night I kicked 28
balls over the crossbar befoe I missed one. Bruce couldn't believe his
eyes...he'd struck gold! Well, as it happened, the next day we played the
Cartierville Cavaliers. They had some good boys but we had a guy named Jim
Lawson who ran wild and we beat them 55-0. I made five straight convert
attempts and missed them all. In those days it was the Ches McCance style:
hands and hips, take two steps and kick straight ahead. I didn't realize I
didn't know how to get enough loft on the ball because they blocked them
all. Bruce didn't take it too personal, but he sure was happy to get Eddie
back. I was a physical fitness freak then -- I guess I still am -- and
heavily into Judo. Bruce was convinced judo exercises were great for
football tuneups so he appointed me to get in the middle of the ring and put
the guys through their paces, and he let me keep my job. I was chastened but
glad he didn't kill me. But Bruce was excitable and had trouble keeping
track of which guys were in the game, so he would call for somebody to "get
in there!" and he had to be told somebody was already in.
One night at practise he took a fit, tearing at his hair and yelling: "You
stink!...You stink!...You all stink!"...the guys had a hard time keeping a
straight face.
Jim Lawson was one of the greatest natural athletes I ever saw...in the
annual Montreal High boxing tournament... it must have been 1943 or
thereabouts, he beat the reigning Golden Gloves Light-Heavyweight Champion
Stanley Best in three rounds -- and Jim had never been in a ring before!.
His mother was the caretaker at the DeLoratoire elementary school. He went
morning and night to the school and shovelled hundreds of pounds of coal
into the furnace hopper. He built up a fantastic upper body and was
incredibly hard. I trained for a bit at the Iverley Settlement but quickly
gave up boxing for judo. My theory is we Irish have such big brains our
skulls are too thin. Tackling him was the big hurt! But he never seemed to
be interested in organized sports...the Ottawa Rough Riders offered him a
tryout but he didn't bother.
Ronnie Hutchison lives up near Hawkesbury and as far as I know he's still
with us. Al Merrick lived near here In Maxville, the home of the World's
Largest Highland Games, and he played with us here about ten years ago,
and then moved to B.C.
I go every year. To me, it's The Greatest Show on Earth...my mother was a
McGrergor. I was born in 1930 in Donaghadee, County Down, North Ireland. We
came to Canada in 1933.
The three of us went to a reunion at Molson's Brewery that must have been
ten years ago, where we saw quite a few of the guys.
I remember dance reunion at Victoria Hall. Karl Hilzinger was there out dancing on the floor on
his tin legs. I knew Karl pretty well from my skiing times up north. What a
kick in the head he got: male model, football player, ski pro, and he looses
his legs.
Reggie Whitehouse...Reggie has put on quite a bit of weight since his
playing days with the Roughriders...Moe Martin was living at Mt.Tremblant
the last I heard ten years ago.
.I fear a whole lot of the guys are playing their football on the Big
Gridiron in the Sky. I heard Moon Melvin died, and Bobby Baird, very
young, and John Sante. I understand Joe Cameron is some kind of a Bishop
or some such in Montreal... I saw him at that reunion....I told him "Joe,
I'm really amazed you turned out so well as you did."
It was great hearing from you. I'll let you know about Evan.
I married a Westhill girl, Norma Simon...it's 52 years and counting...I got
lucky!
Do you rember Billy Wren? And what was the name of that 275 pound kid who
played for NDG?
Do you remember much about the Hamilton game? What high school did you
attend?
Yes, I remember it well....Moe Martin was fantastic for us -- the best
player on both sides. But they had a guy who killed us...I think Garnett
Bailey was his name...he went on to play for the Ti-Cats. That was a packed
team of guys being groomed for the Ti-Cats and they had a much bigger
population to draw from. You have to remember there were, what?... six
juniour teams in Montreal, plus the high schools....and the French schools
didn't play football back then. It was 17-0 but we gave thenm a good game.
I went to the High School of Montreal but I gave it up in grade 10 because I
was orphaned. I went in the Reserve Army and rounded out my education at the
Cote des Neiges Pool Hall. I could write a book about that. I lived in Cote
des Neiges. In 1942 every boy in the school was conscripted into the Air
Cadets, so Tuesdays and Thursdays every boy was in Air Force blue. They had
no equipment so all they did was bash the gymnasium floor in close-order
drill. The only way out was the Sea Cadets or the Reserve Army, so I joined
the Reserve Army at 12, but I lied and told them I was 14.
I stayed intill 1947 and came out a fully trained trooper paid $62.50 a
month.
Jim Lawson and I were both ski-jumpers at the Cote des Neiges jump....it was probably like the smaller
of the two Olympic jumps, but it was ramshackle all-wood structure, maybe
100 feet high with an interior staircase, and it swayed in the wind.... but
we used to get crowds of 15,000 up to 20,000...it was wartime and not much
to do....I think it was February 1943...maybe 1944...the George Washington
(don't ask) meet, which was then the North American Ski-jumping
Championship. About a hundred jumpers would go, then a break, then another
jump each...those who got over a certain distance would then get another
"long-standing" jump it was called, to declare a winner. Well, the chute and
the hill where icy that day after a thaw then a freeze but, typical
teenagers, Jim and I had told our Coach Harold Mines, who had broken his
back some years before coming off on one ski as a stunt, we wanted to do a
tandum jump: two guys at the same time to augment (show off) the
entertainment before the long-standing. Guys did stupid things like Punch
Bott, a Mountie, dressing up like a famous American woman jumper -- Dorothy
Graves -- in a skirt with two grapefruits en avant and coming off through a
flaming hoop. The tandum jjump had been done before and one time I remember:
five guys: two-one-two once. Crazy stuff like that. Well, Harold said it was
too icy and too dangerous and he forbade us to do it. But, we went to some
of our buddies and told them we were going to do it anyway. We asked them to
clear the hill for us but don't tell Harold. We got another guy to go to the
PA announcer, and tell him to announce us, but he didn't know Harold didn't
know, and not to tell him."Two of our outstanding young jumpers, Jim Lawson
and Ross Greer will do the death-defying tandum jump!" he blared out on the
PA. A roar went up from the crowd. There were two tracks in the snow (ice)
on the chute and the idea was we would each have one ski in one track, and
we would hold hands. So the bugle blew, and down we went. I had a glimpse of
Harold way down below rushing out of the Judges' shack. But Jim's skis were
faster than mine (better wax job, I guess) and he started to get ahead of
me. I didn't have enough sense to let go in time and down he went on the
chute. I had nowhere to go so I fell into him. His skis went into the wooden
guard rail, both snapped off and he was knocked out cold. Strangely, I
wasn't hurt but continued down the chute in an inglorius heap. I clearly
remember an enormous roar went up from 20,000 people, who probably figured
we were dead. Jim lay sprawled on the chute, stuck into the rail, out cold.
I managed to grab onto the rail and saved myself from going off the end,
which was about twelve feet high.
Jim got rescued by the St.John Ambulance, but I made my own way down, fresh
as a daisy, but full of foreboding about what Harold would say. It ended in
a triumph - once Jim came to his senses -- we were interviewed by CBC
Radio....they seemed to think we were heroes. As for Harold, he swore at us
for five minutes and probably didn't repeat the same word twice. But Jim
told him what we did was no worse than what he did to himself. Eventually,
Harold came around and we laughed about it after. But we never did it again.
Article from NDG Monitor May 31, 1951
Harvey Robitaille to Head NDG Football Squad
Elected President of Maple Leafs in Club's First Meet
Prominent Local Sportsmen Attended Gathering;
Campaign to be Instituted to Raise $3,000
Harvey Robitaille Jr., prominent NDG sportsman, has been elected this year's President of the executive of the NDG Maple Leafs football team, present city and provincial junior QRFU champions.
Others elected at a meeting in the Community Hall were Glen Stoddard and Solly Mastro, V-P's; Charlie Johnson, secretary-treasurer; Jack McKenna, Manager; Solly Mastro, head coach; Eddie Mott, Ernie Gray and Eddie Walsh, assistant coaches.
The meeting, first of a series of meetings called to map out plans for the club's operations next fall, was attended by scores of supporters including councillors Ernie Mundey and Eddie Asselin Jr., who both gave brief talks.
Apart from the elections the meeting was mostly confined to reminiscing over the Leafs exploits last year when they copped the city and provincial championships for the fourth time in the last five years.
Require $3,000
Secretary-treasurer Johnson told the Monitor the Leafs would require around $3,000 to operate at maximum efficiency in the fall. The club, although by far the strongest team on the gridiron in past years, has been constantly in dire need of funds ever since it resumed operations after the end of the Second World War.
It is now in need of a full set of pants for its 30 players along with new sweaters, helmets and several pairs of boots and shoulder pads.
The club also needs operating expenses for travel, the purchase of footballs, liniment, medical kits and to pay for treatment of injured players during the season.
Plans for a campaign to raise the needed funds will be outlined in subsequent meetings when club officials hope to have in attendance several NDG residents who are prominent in political and business circles.
Invited to lend their moral support to the team's operators this year are: Moe Herscovitch, J.O. Asselin, J.E. Lyall, Ray Wager, Paul Earle, A. McMahon, Phil Wimmer, Fred Whitmor, Stan Kearney & A.D. Quintin, amongst others.
Club officials hope that most of these men can attend one or more of the club's meetings in the near future.
News Well Received
News that lights will be installed on the softball diamond at Trenholme Park, the Leafs' home ground, was greeted with jubilation. For several years the Leafs have been searching for a place to hold night practices.
Secretary-Treasurer Johnson said that judging from the auspicious beginnings, the "outlook is definitely encouraging" for the club this year.
A meeting will be held next month by the officials of the QRFU to draw up the schedule for the 7 team junior football league. Teams who are expected to play in the league in the fall besides the Leafs are Lakeshore Flyers juniors, Westmount, South Shore, Cartierville, St. Aloysius and Rosemount. First game will be played in early September.
Article from "NDG Monitor" June 14, 1951
Many Promise Support For NDG Football Team
Meeting Called to Discuss Team's Organizational Plans
President Harvey Robitaille States Interest Shown
By Businessmen And Councillors Encouraging
Plans for the operation of the NDG Maple Leaf football team next fall, will be outlined and discussed by the team's newly elected executive at a meeting next week.
Harvey Robitaille, jr., prominent NDG sportsman who was elected president of the executive said the interest displayed thus far gave promise for a very successful football season.
He said he had succeeded in enlisting the wholehearted support of councillors Edmund Asselin, J.E. Lyall, Ernest Mundey and A. McMahon who will sit on an advisory committee along with several other prominent local citizens. Robitaille and Fred P. Whitman, M.P., Phil Wimmer and Charles Naylor had promised their support and that he hoped to get more members on the committee as soon as possible. Letters of invitation have gone out to several personalities and their answers should have been received by the time the meeting takes place next week, he said.
Charles Johnson, re-elected secretary-treasurer, said the executive had estimated that $2,500 would be needed to operate the club. "At first we thought we'd require as much as $3,000 but we found we could make it on $2,500.
Dressing-Room Problem
The agenda for the next meeting calls for a discussion on the problem of finding a suitable dressing-room for the players near Trenholme Park where the club will train and probably play home games.
Johnson said little could be done in the way of getting the players, both veterans and newcomers, together for briefings before a dressing-room can be secured.
"We have to get going, he said. "Training should begin early in August if the team is to be in top shape for the early September league opening."
Installation of flood lights on the softball diamond at Trenholme Park will permit the team to train and hold practices there evenings, he said. However, all league games will be played during daytime, and as in past years, most of them on Saturday afternoons.
18 Players Available
Solly Mastro reports that about 18 players from the NDG team, which copped the city and provincial QRFU championships for the fourth time in five years last fall, will be available again this fall. There are also several newcomers from all parts of the city and particularly from high schools in the west end.
"We'll dress a strong team again in the fall," he promised. "I'm not going farther than that in my predictions, but as usual we'll be in there with all we have."
Future meetings of the executive will largely be taken up by discussions on a proposed canvass of the district to raise the funds needed by the club.
President Robitaille said he hoped to get a good part of the funds from several sports minded businessmen in the Snowdon area who have proven themselves generous contributors for sports programs in the past.
He said if the enthusiasm for the football team generated so far
Article from "NDG Monitor" June 28, 1951
Obtain Sponsors for NDG Junior Football Champions
Club Officials Seek More Business Firms To Aid Squad By Sponsoring a Player For $75
A novel idea to raise funds to finance the city and provincial junior QRFU champs - the NDG Maple Leafs Football Club - in the fall, has met with generous response from west-end businessmen, club officials report.
The idea, which saw birth at a meeting of club officials headed by president Harvey Robitaille, jr., calls for each of the 30 players on the Maple Leaf team to be sponsored by one businessman.
For $75 club officials say they can completely outfit a player for the season.
Already, 10 businessmen in NDG, one in Ville St. Laurent and another in Montreal proper, have offered each to sponsor a player. President Robitaille said there were still 18 other players to be sponsored and that judging from the generosity displayed by the businessmen so far approached, club officials should have no difficulty in finding the remainder of the needed funds.
Club secretary-treasurer Charles Johnson said a committee composed of six volunteer club officials had been assigned the task of approaching the businessmen and trying to get them interested in the project. He said that the success the group had met in the short time they've been at work was most encouraging and that he hoped to have sponsors for the rest of the players within three weeks.
When 30 sponsors are found, a drawing of the names will be held to determine which sponsor will have which player. In this way, club officials say, there will be no confusion and each player will be assured of a sponsor.
To raise funds for the club's incidental expenses such as transportation, cost of hospitalization for injured players, stationary, etc., a drawing will be held.
Solly Mastro, the club's popular head coach, said he anticipated little trouble in finding enough competent players to form a group that will again be a strong contender for city and provincial championships this year. He said light practice would begin in about a month.
Article from "NDG Monitor" July 26, 1951
First Practice For Maple Leafs Slated Saturday
Champion NDG Squad Will Work Out At Home Grounds In Trenholme
First practice of the NDG Maple Leafs, last year's junior Quebec Rugby Football Union champions, will be held on their home grounds at Trenholme Park starting at 2 p.m. Saturday, club officials told the Monitor yesterday.
This will mark the first organized work-out of the club's players since they lost the national championship to the Hamilton Tiger-Cats late last fall.
Club secretary Charles Johnson said he was extending an invitation to all district football enthusiasts who are within the junior league age limit and who would like to try out with the club.
Other practices are scheduled for every night next week starting at 7 p.m.
On the business side of the club, officials of its fund raising committee report they are making rapid progress, due mainly to the friendly co-operation displayed by the local businessmen and merchants approached so far.
The club's new plans for supporting its activities call for each player to be outfitted through the generosity of one individual. This new approach to fund raising has met with encouraging success, club officials said, and there are now only ten players out of 30 for whom sponsors have not been found. Each sponsor of a player will have his name or business' name inscribed on the sweater of that player. Also, his generosity will be given due recognition in the pages of a program which will be distributed at all home games, club officials state.
Saturday afternoon's work-out will be confined mainly to light exercise and interviewing possible replacements for the ten or so players from last year's club who are no longer eligible.
Coach Solly Mastro promises every applicant a fair chance. The best players will win out he stated. He does not intend announcing his line-up until late next month, a few weeks before the opening of the regular season in September.
Article from "NDG Monitor" August 9, 1951
15 Players at Initial Drill Of Championship '50 Squad
Newcomers Welcomed Says Coach Mastro
Need For Suitable Clubhouse for Players Stressed
The 1951 addition of the NDG Maple Leafs, last year's junior Quebec Rugby Football Union champions, began whipping itself into shape for the opening game five weeks away, with a first practice on its home grounds at Trenholme Park.
Fifteen players showed up, among them a few from last year's squad. They were put through limbering up exercises and each did a little forward passing, kicking and running. Coach Solly Mastro said it was still too early to let the boys do some tackling.
"They'll have to loosen up a bit and get rid of that soft summer fat," he quipped.
Fewer players than were expected showed up at the first work-out. Coach Mastro attributed it to the week-end heat and said most of the boys who missed the practice had headed for the beach so that they had got some exercise anyway.
Each night this week, Coach Mastro had his boys out on the gridiron, and with each subsequent day, started being more severe with them. He hopes that within ten days they can begin at least to look like football players.
Newcomers are constantly being interviewed and Mastro says he invites all football enthusiasts within the age limit to come out for a try. All positions are open and the veteran members of the club will have to fight for them just like the newcomers, he promised.
Secretary Charles Johnson said club executives were still on the lookout for a suitable clubhouse in the vicinity of Trenholme Park. A garage or empty cellar would do fine, he said. The club has been searching for several years where equipment can be stored and more players can change and shower.
Harvey Robitaille, jr., newly elected president of the club, who has been the main cog in the club's drive for sponsorship this summer reports only a few players are without individual sponsors.
Article from "NDG Monitor" August 30, 1951
Maple Leafs Open Football Season September 8th
NDG Junior Squad Gets Set For Opener Against Flyers
Final Selection Of Players For NDG Team To Be Made Next Week
50 Youths Trying Out
Final selection of the players who will align themselves with the NDG Maple Leaf junior club in the opening game of the season Sept. 8, against Lakeshore Flyers will be made early next week, Coach Solly Mastro told The Monitor today.
For the past few weeks an average of close to 50 youths representing what club executives have called "one of the best crop of young football players we've seen" have been competing enthusiastically for positions with the team that copped the QRFU junior crown four times in the last five seasons.
So far about 15 players are sure starters. These include some newcomers. But coach Mastro says he is taking his time making his final choice so not to overlook any of the several good prospects.
Dressing Room Found
Meanwhile secretary-treasurer Charles Johnson reports the club has finally found itself a dressing room. Two residents of Park Row East street adjoining Trenholme Park, have offered each their half of a double garage to be used for a dressing room and to house the club's equipment.
The club needs only 10 more sponsors before it can call itself well equipped, Johnson said. "We hope to reach our quota of sponsors by the first game."
Article from "NDG Monitor" September 6, 1951
Maple Leafs Open League Against Flyers Saturday
Accent Speed, Passing; Four New Teams In Jr. Quebec Football Union
The 1951 edition of the NDG Maple Leafs, heralded by its supporters as the team to beat again this season, will make its first bow before the public Saturday, against the Lakeshore Flyers, in the opening game of the Junior Quebec Football Rugby Union League schedule at Trenholme Park. Game time is 2:30 p.m.
The accent this year is on speed and passing proficiency, head coach Solly Mastro stated. The veteran football mastermind thinks he has all the speed he can use in his 20 odd newcomers. Sprinkled with a dozen of Last year's veterans, he thinks his 1951 squad is as fine a group as he's handled.
All has been arranged for a gala opening. Councillors and other local political and business figures have been extended personal invitations to attend and one of them will probably be selected to throw the first ball.
Last Year's Stalwarts
Last year's players who will line up with the Leafs this season include: Peter Dowie, Jack Stryde, John McTear, Bill Melvin, Ron Lamb, John Harris, Bob Baird, Stan Easton, Len Jones and John Hersey. Georgie Meehan is the only hold-out, but team secretary Charles Johnson said he was quite confident Meehan would be out.
Newcomers
Among the probable starters of the newcomers are: Karl Hilzinger and Reggie Whitehouse, former Montreal High School stars; Backfielder Harry Shugrue of last year's Westmount Juniors; quarterback Ronnie Hutchison and backfielder George Economides, ex West Hillians; Allan Merrick of Montreal West High; backfielder Moe Martin and Bill Leslie of Catholic High School fame; and end Alex Morrison who played last year with Cartierville Juniors.
League president Reg Watson, secretary Norm Gillespie and registrar Bill Little, also have promised to attend, with George Mantha and Phil Wimmer, of the Parks and Playgrounds association.
Not much has been heard about the prowess of the new league entry - Lakeshore Flyers - but Mastro told his boys to get ready for anything.
"At least with the old teams we knew what to expect. But this year we have four new entries," said secretary Johnson.
Other new entries are Verdun Sham-Cats which the Leafs will face in their second league game September 15 at Trenholme Park; The Montreal East Alouettes and a team from Point St. Charles. Other clubs in the league are the St. Aloysius Orfuns and the South Shore Combines.
The league this year is divided into two sections - The Leafs, Lakeshore and Verdun Sham-Cats comprise the western section while the other four teams are in the eastern section.
Coach Mastro said his players still need a few workouts to reach their best form. Following the September 15 game against Verdun, the Leafs don't have another league game for two weeks. Mastro said he is looking for a team or two outside the league to play exhibitions during that time. Any coach interested should contact him or club president Harvey Robitaille at Robitaille Motors.
Article from "NDG Monitor" September 13, 1951
Maple Leafs Show Power-Packed Squad In Opener
Take On Sham-Cats Saturday In Better Test Of Strength
Coach Mastro Confident Of Team's Outcome After Humbling Lakeshore Flyers By Lopsided 56-0
A fast and eager NDG Maple Leaf Club wasted no time in establishing itself once more as the top contender in the QRFU junior football league, when it romped home with an easy 56-0 win in the opening tussle of the 1951 season against the newly-formed Lakeshore Flyers at Trenholme Park last Saturday before a cheering crowd of 1,500 including several local prominent figures.
Chunky Solly Mastro, the head coach, beaming over his squad's performance, but with customary caution, said the Leaf's second game scheduled for this Saturday afternoon at Trenholme Park against another new league entry - Verdun Sham-Cats - would better tell the tale.
"With new teams it's hard to tell. The Flyers are green since some of their players are new to the game, but the Sham-Cats may prove a surprise. However, judging from our performance Saturday I'm quite confident."
Mr. Mastro's confidence is easily understood. Integrating 20-odd spunky former high-school stars with a core of ten veterans from last year's champion crew, he's been rewarded with a smart and productive backfield whose performance should do more than justice to last season's Raza, Meehan and Co.
The line however could stand a few more rehearsals and Mastro says he's still on the lookout for a few more solid gents a la Ambrose.
Lesson For Flyers
But these imperfections in the club were of no account Saturday. After a slow beginning in the first half during which the new players wrestled as much with stage fright as anything the Flyers could produce, the Leafs began clicking and turned the game into an exhibition of fancy passing plays and round-end spurts that probably did more to teach the young and inexperienced Flyers how the game is played, than as of their practices.
The game was preceded by a brief but well-staged opening ceremony during which Reg Watson, president of the QRFU, kicked off the first ball held for him by Harvey Robitaille jr., president of the Maple Leafs.
Quarterback Ronnie Hutchison, of West Hill fame, opened the scoring in the first quarter with a touchdown which John Hersey, one of the top scorers in the league last year, promptly converted.
Hersey accounted for a field goal and George Economides, former West Hill backfielder who turned in spectacular running performances throughout the game, added a safety touch.
The Flyers buckled down in the second quarter and held the Leafs to a single point rouge notched by Ronnie lamb, another of last year's veterans.
The second half saw fireworks as the Leafs settled down with a tighter line and an offensive that kept the Flyers dizzy up to the last minutes.
Bill Leslie took the kickoff on the 15 and ran it back to his own 34 yard line. Lamb advanced six more yards and on the next play booted for 30 yards. The Leafs held the Flyers in check and once again in possession moved deep into the Flyers zone. Harris gained yards through center and Allan Merrick went over on the next play. Heresy's convert was good.
A few minutes later a Karl Hilzinger lateral to Bob Beard brought the Leafs to the Flyer 20-yard line. Hilzinger covered 10 more yards and Ronnie Hutchison scored a major after a spurt round left end. Hersey converted.
30-yard Pass
A 30-yard pass from Hutchison on the 39 yard line sent Beard in the clear and he outdistanced two pursuers to run 40 yards for a touch. The convert was no good.
Moe Martin notched his touch early in the fourth stanza after advancing 40 yards on three successive plays. Hersey converted.
The Leafs moved down to the Flyers 22 yard line and Stryde lead them on, taking a bullet pass over centre and afterwards going 10 yards for a touch. Hersey converted.
Following several gains via plays by Merrick, Lamb and Peter Dowie, Hersey booted a placement to bring the score to 44-0.
A Flyers pass over centre was fumbled and the Leafs dribbled the ball 30 yards into touch where Murphy smothered it for a major. Economides converted. A rouge followed to bring the score to 51-0.
Flyers Show Spark
Dazzling passing plays by Hilzinger and Hutchison almost resulted into another touch, but it was called back, when the Leafs were penalized for roughing. The Flyers showed a spark of new spirit when they moved up 30 yards on a pass and two runs, but the Leafs line tightened up before they could become dangerous.
In the last minutes after a 15-yard round end gain by Lamb, Hilzinger carried 20 yards to touch territory. The convert was no good.
POST NOTES: The Verdun Sham-Cats which the Leafs oppose Saturday may prove a surprise. St. Aloysius Orfuns who gave the Leafs much trouble last year could do no better than defeat the Cats 6-0 on Sunday after a hard battle. In the other junior league games, Point St. Charles and the East End Alouettes played a 5-all draw. . . The Leafs still hope to have Georgie Meehan out this year. But so far they haven't seen much of him; he's been too busy playing baseball this summer and he's still at it. But he may be in the Leafs line-up Saturday. . . Club secretary Charles Johnson says the fund raising committee is still seeking nine sponsors, each to finance the equipment of one player on the club. So far 20 sponsors have answered the club's call for help. The name of each sponsor can be seen on the back of the sweater of the player he financed. . . Saturday's game was expertly handled by referee Scotty Green and Umpire Lou Miller. . .
Article from "NDG Monitor" September 20, 1951
NDG Male Leafs Drill Hard for Orfuns Encounter
Locals Fresh From Win Over Sham Cats, Improve Plays
Coach Mastro Still Seeks More Strength For Line; Support Improves
Unimpressed by the fact that they won their first two games handily, the last one by a score of 22-10 over Verdun Sham-Cats at Trenholme Park Saturday, the NDG Maple Leafs began a rigid program of daily practices this week to bring their plays to top effectiveness in preparation for their most critical game of the regular season, against the unpredictable St. Aloysius Orfuns Oct. 8 here.
The Leafs have no game scheduled until Saturday Sept. 30 when they tangle with the lowly East End Alouettes, a new league entry, at their Montreal East home park, located at the corner of Broadway and Notre Dame street east.
While entertaining little fear of the young Alouettes if his team turns out the strong performance it has so far, Coach Solly Mastro has cautioned his squad against over-confidence.
One touchdown by the Sham-Cats last Saturday could have been attributed to over-confidence on the Leafs part. After jumping the gun with two quick touchdowns in the first quarter, the Leafs fell for the old sleeper play which brought the Sham-Cats back into the game in the second quarter.
The Sham-Cats brilliant pass artist, Bill Shepherd, rifled a 40-yard lateral into the waiting hands of Ron Johnson on the Leafs 15 yard line and the sleeper ran it easily to pay dirt.
Shortly before half-time a passing play by Cats' Frank Tucker and Alex Gellately ended in a touchdown and tied the score to 10-all.
Veterans Score
Newcomers on the Leaf team took a back seat while last year's veterans accounted for all the team's points.
Reliable Johnny Harris opened the scoring in the middle of the first stanza after the Leafs had progressed steadily up field, with a short round-end spurt from about 10-yards out. The convert was incomplete.
Shortly before the end of the first quarter, Ronnie Lamb, who never behaves on the gridiron like his last name might imply, had the seatless spectators standing even taller with a performance of elusiveness that saw him take a hand-off from Ronnie Hutchison on the 35-yard line, swivel-hip his way through the Sham-Cats line and around the backs to touch ground. John Hersey was having trouble with his kicks and this convert too was no good.
However Hersey settled down in the third quarter and converted both touchdowns by Jack Stryde. Quarterback Hutchison started Stryde on his first with a forward pass to Harris on the Cats' ten yard line. Harris relayed to Stryde who dashed over the line.
Hutchison again played feeder to Stryde for the last touch of the game. Hutchison acquired the ball on the Cats' 20 yard line and flipped one to Stryde behind the Cats line. The ball came in High and Stryde jumped up between two Sham-Cats men to pluck it from flight.
George Economides sparked the Leaf's offensive throughout the game with continual 10 and 15 yard gains. Al Merrick, quarterback and linesmen Len Jones, Reg Whitehouse and Stan Easton acquitted themselves with customary ruggedness, particularly in the last half.
SPORT NOTES: Coach Mastro is still on the lookout for a good lineman to plug a weakness in his line. He's interviewing prospects every night at Trenholme Park and invites newcomers. . . The Leafs line, which is Mastro's main worry, (though not a very big one), is showing definite improvement in practices and Mastro thinks it'll stand up with the best of future contests. . . Team executives hope that in the lull period until the next league game, they can get the Leafs an exhibition game against an intermediate club. But so far none has ventured to accept the challenge. . . West Hill's band and cute majorettes put on a show at the game Saturday which was well worth seeing. The presence of a band and majorettes always add spice to football contests. They should be present more often. . . The crowds at the games so far this year are evidence that the NDG public is taking a little more interest in its junior QRFU representative team.
Article from "NDG Monitor" September 20, 1951
Maple Leafs Meet Flyers At Valois in Sunday Tilt
The NDG Maple Leafs will meet the Lakeshore Flyers at Valois Sunday afternoon, it was announced yesterday following a last minute re-shuffle of the Junior QRFU schedule.
Originally, the Leafs had been scheduled to meet the East End Alouettes. However, league officials in an emergency session Tuesday re-wrote the league schedule after complaints from both the Verdun Sham-Cats and Point St. Charles teams.
Apparently when the schedule was drawn up this summer, league officials were unaware that Verdun and Point St. Charles had to use the same home grounds, which, it was subsequently discovered, with the present schedule would interfere with the home games of the Verdun Intermediate entry.
Meanwhile, head coach Solly Mastro has his squad out for almost daily practices since the Leafs trounced the Sham-Cats 10 days ago. He said he had a acquired a new lineman in Joe Carmen, ex-West Hill star. He was signed as the 30th member of the club, replacing snap Mitch Reiff who was released early this week when he said he had decided to resume his studies and was returning to McGill where he will play in the Intermediate college league. Though the club has signed up the 30 players allowed by the league, Mastro said he is still looking for a lineman or two to buck the weakness in his line. If he finds one or two who are suitable, he said he is willing to sacrifice one or two backfielders, to sign them on.
Thinking of Sunday's game, Mastro expressed high confidence that the Leafs would take it. The Leafs trounced the lowly Flyers 57-0 in their first encounter in the league opener at Trenholme Park. However he prepared his boys for a stiffer contest, since the Flyers have been reported improved and showed more confidence in their last appearances.
JUNIOR SCORING
| | | | | | |
| --- | --- | --- | --- | --- | --- |
| NAME | TOUCHDOWNS | FIELD GOALS | SINGLES | CONVERTS | POINTS |
| Barefoot, South Shore | 4 | 0 | 0 | 0 | 20 |
| Haukkala, Verdun | 3 | 0 | 0 | 5 | 20 |
| Green, South Shore | 2 | 1 | 1 | 5 | 19 |
| McGowan, South Shore | 3 | 0 | 0 | 0 | 15 |
| Tait, St. Aloysius | 3 | 0 | 0 | 0 | 15 |
| Hersey, NDG | 0 | 2 | 0 | 8 | 14 |
| Osgood, South Shore | 2 | 0 | 0 | 1 | 11 |
| Hutchison, NDG | 2 | 0 | 0 | 0 | 10 |
| Stryde, NDG | 2 | 0 | 0 | 0 | 10 |
| Emo, St. Aloysius | 2 | 0 | 0 | 0 | 10 |
| Lacey, Point St. Charles | 2 | 0 | 0 | 0 | 10 |
| Dixon, Point St. Charles | 2 | 0 | 0 | 0 | 10 |
| Dube, South Shore | 1 | 0 | 0 | 1 | 6 |
| Gault, Point St. Charles | 1 | 0 | 0 | 1 | 6 |

Article from "NDG Monitor" October 4, 1951
Maple Leafs Play 2 Games on Week-end; Down Flyers
Meet Improved Verdun Sham-Cats On Saturday and Combines on Holiday
The NDG Maple Leafs, dented badly by the temporary loss of starry backfielder George Economides who hurt his shoulder in the process of leading his team to a 19-0 victory over Lakeshore Flyers last Saturday at Valois, will face their toughest grind of the season this week-end when they tangle with the fast improving Verdun Sham-Cats at Auditorium Park, Saturday and the redoubtable South Shore Combines at St. Lambert Monday.
Economides, as steady and hard-driving a performer as can be found in junior football, sparked the Leafs belated resurrection after a scoreless first half last Saturday, by accounting for two touchdowns.
Newcomer Pat Turner accounted for the third while chunky Leaf veteran John Hersey notched a convert and a placement.
Hersey had no difficulty converting Economides' first major, but found the gods against him in his attempts to convert the other two touchdowns.
The Leafs scoring spree in the second half in no way impressed Coach Solly Mastro, but served only to soothe him following the Leafs poor display in the first two quarters.
Any resemblance between the team that trounced Lakeshore 57-0 early in September and the Leafs who played in the first half of last Saturday's game not only was accidental, but was impossible.
In the opening minutes, the Flyers picked up 40 yards in successive plunges. A holding penalty to the Flyers allowed the Leafs a breather and their sieving line plugged most of its holes. Quarterback Ronnie Hutchison who pulled the string on most of the scoring plays and otherwise kept the Leafs in the game, ran a kickoff back a few yards after which Economides picked up another eight. Leafs were penalized 10 yards and lost the ball on the next play.
For the next five minutes the Leafs were impotent, being hemmed in their own zone and almost scored against when a willowy Flyers' pass in touch ground came inches of being caught.
Karl Hilzinger brought the Leafs back into centre field with a 20-yard dash round left end. Leafs gained three more yards but lost ten for disputing a decision near the end of the quarter.
The Leafs gave semblance of life at the start of the second quarter. They attempted a pass which was incomplete but made five yards on the ground in the next play. Hutchison on a fake pass-play scooted 15 yards. Moe Martin covered another eight and Hutchison, on a quarterback sneak which he worked well at various times through the game, covered another seven for a first down.
Hutchison's pass to Peter Dowie was incomplete and a fake kick play by Johnnie Harris went for no gain as the Leafs lost possession.
The ball changed hands regularly until the end of the half with Harry Shugrue, Bob Baird, Hutchison and Harris doing most of the ball carrying for the Leafs.
POST-NOTES: Peter Woodfine suffered a torn ligament in practice last week and is out for the season. . . Economides who injured his collarbone is not expected to be in shape to play before Oct. 20. . . He got injured plowing into the Lakeshore line like a bulldozer. . . Hutchison, the small, but fast and tricky first line quarterback, was dripping blood from the mouth after a particularly rough going over, but took it all in his usual quiet, unassuming stride. He'll be in there Saturday. . . After their poor first half performance the Leafs got a verbal blast from Coach Mastro at half time. . . "Everybody is so busy thinking he's a star out there that he forgets to play football," was one of his comments. . . New lineman Tony Carmen, ex West Hillian, made a good showing in his initial performance. Two other linemen recently acquired by the Leafs who will make their first appearance against the Sham-Cats are Jeff Bridges and John Harvey.
Article from "NDG Monitor" October 11, 1951
Maple Leafs Make Strong Finish To Cop Two Games
NDG Grid Warm Up Slowly But Score Two Victories
Drop Sham-Cats 13-6, Combines 6-2; Play East End Alouettes Saturday
Junior football enthusiasts this have come to the conclusion that there is a fortune to be made on wagering that the NDG Maple Leafs will win out in the end in any regular contest, but to bet on how they'll go about it is to court economic disaster.
If the club is one thing, it is unpredictable. It captured two crucial games over the week-end in most unorthodox fashion, and it is safe to assume that gridiron acrobatics can be expected in its next game against the East End Alouettes at Trenholme Park, Saturday afternoon, and perhaps even more so in the most crucial game of the season next Saturday against St. Aloysius Orfuns.
In a manner not befitting a redoubtable champion, the Leafs had to come twice from behind to topple Verdun Sham-Cats 13-6 at Verdun Saturday and South Shore Combines, 6-2, at St. Lambert Monday.
Heavy Penalties
In the Saturday contest, Leafs not only came from behind, but saw fit to lose 120 yards in penalties to their adversaries, sort of making matters more even. In Monday's tussle, Leafs showed a little more stability but nevertheless saw one of their players, John Hersey, thumbed out of the game for fighting.
Leafs and Sham-Cats played it nip-and-tuck until late in the second quarter when the cats moved up and Messon lofted a beautiful boot behind Leaf's line. The pigskin was dropped and a scramble ensued for it, resulting finally in a rouge for Verdun.
Leafs began to wake up at their usual third quarter time, and after pushing upstream, the terrain being soggy from an almost continual drizzle, they succeeded in smothering a Cats' received behind his own line to even up the score.
Leafs finally jumped ahead around the two-minute mark in the last quarter when Bob Baird dribbled the ball behind the Cat's' line and fell on it. The ball had been fumbled by Cats' Ken Milland. John Hersey kicked the convert, making it 7-1.
With eight minutes to go, the Cats surged back with Dave Mitchell reaching paydirt on an off-tackle run from eight yards out. The convert kick was haywire.
John Harris chalked up the second Leaf touchdown with a dash around left end with only a few minutes to go. Hersey added a convert.
The Leafs' line, which has been about the most unpredictable element on the club, tightened up in Monday's contest which, in view of the poor weather and field conditions, saw mostly ground action.
After Combines chalked up two points on long kicks by Cameron Kenny in the third quarter, Leafs came to life with Ronnie Lamb's kick resulting for a rouge. In the last quarter Lamb led another Leaf offensive which resulted in the winning points. The Leafs landed on the Combines one yard line and Ronnie Hutchison went across on a quarterback sneak. The convert was no good.
SPORT NOTES: Harry Shugrue and Pat Turner, two newcomers, put in some fine performances in both games. . . John Harvey and Tony Carmen, two other newcomers, also gave a fine account of themselves. . . Stan Easton contributed greatly to helping the line tighten up. . . Karl Hilzinger, the swift back, hurt an ankle Saturday, but showed quick powers of recuperation by appearing for the game Monday. . . Backfielder George Economides, who hurt his shoulder playing against Lakeshore two weeks ago, attended Saturday's game with an arm in a sling. But he showed other sign of discomfort and took part vicariously in the game by calling out encouragement to his team-mates. . . His injury is responding to treatment and although he could probably play this Saturday, Coach Mastro is saving him for the big game against St. Aloysius. It'll make a difference with Economides back helping to relieve the burdened shoulders of able gents Hutchison, Lamb, Harris and Hilzinger. . . The Leafs have only one other league game after their encounter with St. Aloysius. They meet the Point St. Charles Club.
Article from "NDG Monitor" October 18, 1951
Maple Leafs Rated Underdogs For St. Aloysius Tilt
Club Glum With Starry Player Out; Revamp Squad
Hersey, Carmen, Cameron Off Injury List; Newcomers Whitehouse, Long, To See Action
For the first time in the last four seasons of regular play, NDG Maple Leafs will go into a game as the underdogs Saturday when they tangle with the high-scoring St. Aloysius Orfuns at Trenholme Park. Game time is 2:30 p.m.
Fresh from a decisive 32-0 victory over the East End Alouettes last Saturday, the Leafs are gunning for an upset. Doubt as to whether starry backfielder George Economides will be ready to play has somewhat dampened the club's spirit. If Economides doesn't line-up, the club's hopes will be pinned on Harry Shugrue, called the most underrated player in the league.
Tousled haired Shugrue sparked the Leafs' victory last Saturday with three touchdowns, one a beautiful runback after he intercepted an Alouette pass.
Other scorers in last Saturday's tussle were up-and-coming Pat Turner, Karl Hilzinger and John Harris. The other two points were converts by Ronnie Hutchison and Karl Hilzinger.
The Leafs' line, which was once the team's sore spot has been improving more than satisfactorily in recent games and turned in a fine performance Saturday. But Coach Solly Mastro, who had his club practicing diligently under floodlights at Trenholme Park most nights this week, has cautioned his team against over-confidence. He gives the team a fifty-fifty chance.
John Hersey, suspended for one game for fighting in the Leafs-Lakeshore battle two weeks ago, will be back on the line-up along with Tony Carmen and Joe Cameron who missed Saturday's game because of injuries.
Bob Beard, who also did not play Saturday and has been limping about on crutches since he suffered torn ligaments in a knee while playing, is not expected back with the team for a good two weeks. Bob Walker is also a doubtful starter.
However, Coach Mastro has been pleased by the improvement seen in such newcomers as Earl Murphy, Gordie Long and Reg Whitehouse and will depend on them to fill in.
This will be the Leafs second to last game. In their final encounter of the regular schedule they meet the Point St. Charles aggregation at Trenholme Park next Saturday.
Whatever the outcome of Saturday's game the Leafs are certain of a play-off spot and will meet the winner of the eastern junior division in a two-game play-off to decide who will meet the Ontario junior winner.
Article from "NDG Monitor" October 25, 1951
NDG Maple Leafs Get Set For Important Grid Tilt
17-6 Defeat Spurs Local Squad To Hard Training; Meet Pt. St. Charles
With their big do or die play-off game coming up with St. Aloysius Orfuns or South Shore in a neutral park Nov. 3 to decide this year's winner of the junior QRFU championship, the NDG Maple Leafs look upon their encounter with the lowly Point St. Charles at Auditorium Park, Verdun, Sunday afternoon, their last scheduled game of the regular schedule as merely a warm-up.
From the way they dropped a 17-6 contest to the Orfuns at Trenholme Park last week-end, Coach Mastro thinks they can use that warm-up and a few more. With a couple of their stars absent and lacking co-ordination on the important plays, the Leafs took a reverse at the hands of the powerful Orfuns and will need to call upon all their reserves to turn the tide a week from this Saturday.
The dreaded Orfuns were all they were said to be, showing a wonderful talent for capitalizing on their opponent's bungling. Twice they went for touchdowns after Leaf players fumbled. After demoralizing the Leafs with a first quarter 60-yard touchdown run by their fleet-footed Don Emo, the Orfuns surged ahead, recovering fumbles in the third quarter by Leafs' Harry Shugrue, and another in the last stanza, to score majors.
The first touch was a sharp disappointment to the locals for they held the advantage in play throughout the first half but seemed to bog down whenever they came close to scoring.
Trailing 11-0 in the third quarter the Leafs had a brief moment of elation when Alex Morrison pulled down a 30-yard pass from Ronnie Hutchison to put them back in the game. John Hersey converted.
Deserved Win
But a fourth quarter major by the Orfuns' Doug Tait from a few yards out, put the Leafs back in the gloom of defeat and they never came near shedding it. The other Orfuns scorer was chunky Eddie Lozinsky.
Local football diagnosticians immediately went to work after the game and came up with the conclusion that the Leafs simply weren't at their best and that the Orfuns deserved to win. Coach Mastro seemed of the same opinion and told his boys that if they had taken their practices more seriously and attended them occasionally, their score might have been different.
Full of repentance the boys turned out nights on the Trenholme Park gridiron this week to sharpen their swords for next Saturday's big duel.
George Economides who is being preserved in helium for the big game again will not play this Sunday, nor will Bob Beard who is still bothered by a foot injury. But both will be out for Leafs last stand. The Leafs' line, mainly in the persons of Len Jones, Stan Easton, and Reg Whitehouse, stood out well last Saturday as did fleet Karl Hilzinger, the sweater-a-game man, but the club simply didn't have it.
There remains now only for the Orfuns and South Shore to fight it out some night this week to decide who will meet the Leafs for the QRFU championship next weekend. All indications are, of course, that it will be the Orfuns.
Winners of the QRFU title will travel into Ontario at a later date to meet either Hamilton or Windsor, for the eastern championship, and the winners of this will head west to take on the junior champions on the prairies.
Asked whether they expect to take the trip out west, Leafs executives were conspicuous by their "No comment."
Article from "NDG Monitor" November 1, 1951
NDG Junior Grid Squad Seek Loop Title On Sunday
Opponents will be decided Tonight At Molson Stadium
Combines And Orfuns Battle For Right To Meet Local Squad For Championship
Faced with a do-or-die effort in the deciding playoff game for the junior championship of the Quebec Rugby Football Union at Westmount Athletic Grounds Sunday at 2 p.m., the NDG Maple Leafs underwent stiff nightly practices on their Trenholme Park gridiron this week, showing speed and quiet determination.
Excitement was entirely lacking in the Leaf camp and perplexed club executives could not help but note the relaxed behaviour of the lads they expect will cop NDG's fifth provincial crown in the last six years.
Who the Leafs will meet in Sunday's crucial encounter will be decided tonight at Molson Stadium when the formidable St. Aloysius Orfuns fence with the battling South Shore Combines. This playoff game was necessitated by South Shore's 13-11 victory over the Orfuns last weekend. Although the Orfuns finished well on top of the eastern division of the league, the rules require a playoff game between the first and second place teams once defeated the leaders in regular league play. Club officials showed more apprehension over Sunday's game than did the players. Rugged Len Jones will be absent from his regular slot in the middle of the line. He was ordered out for the season two weeks ago when he suffered an attack of pleurisy. Likewise rugged Bob Baird who injured his leg some weeks back will not be able to align himself with the club. His leg still needs attention and it is likely that he also will not see anymore action this season.
George Economides who has been out with a sore shoulder for some weeks went in for light practice and club officials who have been saving him as their trump card kept their fingers crossed less he hurt himself again. However, Economides has been feeling restless over his inactivity and looks forward anxiously to the big game. He says his shoulder is coming along fine.
Last Saturday's game against the Point St. Charles A's which the Leafs easily won 28-0 saw many players who have not been much in the spotlight during the season suddenly break out into a rash.
60-Yards For Score
Moe Martin started the parade by intercepting a Pt. St. Charles pass and running it back 60 yards for a touchdown early in the first half. The convert try was incomplete.
Lanky Alex Morrison who has been showing improvement with each new game and is now making full use of his tallness and speed, plucked down a willowy 30-yard pass from Ronnie Hutchison on the Point's 10-yard line and raced over for another major. John Hersey, the Leaf's top scorer, produced the convert.
On the last play of the first half, Pt. St. Charles almost broke into the scoring when one of its players intercepted a Leaf pass in middle field and raced toward the Leaf goal. But swift Harry Shugrue caught up with him and pushed him out of bounds.
The third quarter was not three minutes old when the Leafs began another productive march which was culminated by a dash to touch ground by Pat (Chick) Turner from 20 yards out. Hersey chalked up his second convert.
With minutes to go in the third quarter Shugrue sparked another Leaf drive which ended in a fourth touchdown. His first dart was around right end. He reversed on the next play by picking up another half dozen yards via the left end. With the Pointers wondering, Shugrue made a third dash, again around left end to bring the Leafs on the Pt. St. Charles five-yard line. Johnnie Harris ran foe a major on the next play.
To finish matters off roundly, Ronnie Lamb unscrewed a 40-yard pass which John Sante on a sneaker play, caught on the run at Pt. St. Charles' 21-yard line and raced unharmed to touch ground, with only a minute left in the game. Hersey booted his third convert of the afternoon.
If the Leafs get by the eastern division winners Sunday afternoon they can look forward to either a trip to Windsor or Hamilton for the play-off game Nov. 10 to decide the winner of the Eastern Canada junior finals, the winner of which will meet the Western Canada champs.
Article from "NDG Monitor" November 8, 1951
Maple Leafs, Tiger-Cats Battle for Eastern Crown
Winner Will Meet Western Champs For Dominion Title
Cameron, Jones And Baird On Injured List But NDG First Team At Full Strength
By Bernard Dube
On route to Hamilton - Nov. 8. - Led by president Harvey Robitaille, a peppery NDG Maple Leaf football club traveled by train this afternoon, headed for Hamilton where tomorrow night under the lights at Civic Stadium the locals will make their fourth stab at copping the Eastern Canada crown.
Accompanied by about two dozen loyal fans, the Leafs are in high spirit and gunning for an upset against the favored Hamilton Tiger-Cats whom they face for the third straight year.
All 30 players who chalked up an impressive record of eight wins against one loss this season, including a 24-2 lopsided playoff victory over South Shore Combines at the slush-covered Westmount Athletic Grounds Sunday, are making the trip, although only 24 will dress for the game tomorrow.
Probable non-starters are Joe Cameron, the only casualty in Sunday's game who suffered a head injury; Len Jones, who suffered an attack of pleurisy a few weeks back; and Bob Baird who is still bothered by an ankle injury while playing last month.
Of the team's officials also making the trip are vice-president Glen Stoddard, head coach Solly Mastro and assistants Eddie Mott and Bill Smith; secretary Charles Johnson, accompanied by his wife, manager Jack McKenna, assistant manager Eddie Walsh, equipment caretaker Frankie Bowers, and trainer Bill (Doc) Ingham.
The club and its entourage are traveling in a chartered coach attached to a pool train which will bring them to Hamilton shortly after 11 o'clock tonight.
Coach Mastro has ordered the players to hit the sack on arrival for a good night's rest. The team will stay at the Royal Connaught Hotel tonight and tomorrow night.
If the Leafs get by Hamilton, they will have to oppose either Edmonton Maple Leafs or Saskatoon Hilltops in the west for Dominion honors. If they lose, they will take a late morning train Saturday for the return trip to Montreal.
Night Sessions
Two night practices early this week on the home Trenholme Park gridiron put polishing touches on the club's plays and helped players retain some of the drive which sent them on an 18-point scoring spree in the last half of Sunday's deciding game against the Combines.
By virtue of their victory, the Leafs copped their fifth provincial championship in the last six years and their third in succession.
Spearheading the Leaf's attack were John Harris, Pat Turner, Moe Martin, and Ron Hutchison, who notched majors. Karl Hilzinger who kicked for a rouge, Joe Cameron who got credited with a safety touch and John Hersey who booted a convert.
Bulwarks on the hard-charging line were Stan Easton, Bill Leslie, Red Herscovitch, Bill Melvin and Jack Stryde. Mastro said he was quite pleased with his whole team and expected a great battle from them tomorrow.
SUNDAY's SCORING SHEET
NDG
SOUTH SHORE
Dowie
flying wing
Gillespie
Turner
half back
Barfoot
Economides
half back
Kenny
Hilzinger
half back
Green
Lamb
quarter back
D. Williams
Easton
snap
Banning
Hersey
inside
Losch
Leslie
inside
L. Davis
Melvin
middle
Pearce
Whitehouse
middle
Drolet
Morrison
outside
Dube
Stryde
outside
McGowan
NDG Subs
Bridges, Harvey, Long, Carmen, Shugrue, Murphy, Harris, Martin, Sante, Merrick, Hutchison, Walker, Greer, MacLeod, Cameron and Herscovitch.
South Shore Subs
Wright, R. Williams, Rasmussen, Melrose, Taylor, Curtis, Savage, Berthelet, E.Doyle, Shea, Wallace, Dawe, Balogh, Alcorn, Osgood.
Officials
Referee: Stuart Shearer; Umpire: Jim Green; Judge of Play: Lou Miller; Head Linesman: Glen Wood; Down-box: Jim McCarthy.
Article from "NDG Monitor" November 15, 1951
Maple Leafs Drop Decision To Tiger-Cats
Second Half Attack Fails To Dent Hamilton Defense
Moe Martin Stars As Plunging Back With Ron Lamb Masterminding The Maple Leaf's Offense
By Bernard Dube
Although the NDG Maple Leafs failed to shatter Hamilton Tiger-Cats' four year supremacy over junior Canadian football when they met in Hamilton last week-end, each individual player deserves praise for his performance.
As usual after every important game, enthusiasts who witnessed the gridiron battle Friday night spent the better part of the week in a spirited post-mortem of the tussle. Opinion was that, had the Leafs played the entire game as well as they played the last half, they would in all possibility, be now winging out west for the Canadian finals.
Close followers of the club's activities will not find it unusual that the Leafs played better in the second half than in the first. It has been a habit with them for the last two seasons. In most of their games they scored the majority of their points in the second half, after, more often than not, lagging behind in the first two quarters.
Last Friday's game in Hamilton brought to light the plunging talents of a 195-pound, six-foot half-back named Moe Martin, a quiet smiling fellow who never goes out of his way to capture the spotlight, but contents himself with a steady, hard-driving performance. His steady, hard-driving performance was magnified when he faced the Tiger-Cats. He kept driving through the line, as many as four times in succession, without being noticeably slowed down by previous tackles. An explanation for his tirelessness might be that, unlike many of his team-mates, he did not let his temper get the best of him.
Ron Lamb quarter-backed the Leafs during most of the game after Ronnie Hutchison was smothered under a dozen goliath-like Hamilton linemen and forced to retire from the game with an injured leg. Lamb's performance was also above par. He's another steady performer who had the misfortune of being overshadowed by such high scorers as Gordie Raza last year, while this year he was content to be the man behind the scene, feeding the ball to swivel hipped artists like Harry Shugrue, Karl Hilzinger and George Economides.
Lamb took a lot of punishment against the Tiger-Cats, once having to leave the field tempoarily, but showed remarkable powers of recovery, particularly in the little get-together that followed the game, at the hotel where the club and its followers were staying.
Stan Easton who talks to the boys on the field like a big brother, and handles the snap position quite convincingley, so opposing teams report, has only one regret, that he won't dress with the Leafs next year, old age having crept up on him to the point where he will be forced to play with the big boys next season or hang up his cleats, as he hinted he would after the game with Hamilton.
Easton brought back a little story of his experience in the game against Hamilton. He tells it in these words:
"There's this big guy playing on the line for the Cats. So the first time we tangle, he pulls me down. The second time he pulls me down and to make sure he stays there I sit on him. 'You don't mind, do you?' I ask him. 'Heck no.' he says as if being sat on was his favourite hobby. So the next time it's him who knocks me down and the next time and the next time. Always I get up and he knocks me down and while this is going on we're getting to be great pals. Just as we're reaching the stage where we're going to exchange addresses and the name of our favourite hangouts, the game ends. What a fine fellow!"
There were few regrets after the game. The Tiger-Cats showed too much power and polish which comes from constant training and loads of talent.
Coach Solly Mastro was hoping to win it, but he wasn't too disappointed. The boys put on a fine performance and he has reason to call them the greatest team he's coached in junior football. He'll be around again next year, probably to turn out another winning squad.
With such able helpers as assistant coaches Edgar Mott and Bill Smith, club secretary and trouble-shooter Charley Johnson, manager Jack McKenna, Frank Bowers and Eddie Walsh and prexy Harvey Robitaille to keep the boys in good humour and in steaks, who knows, there's always next year.
Meanwhile, the boys are recovering from a party-full week-end. Bill (Moon) Melvin is catching up on lost sleep. Red Herscovitch is eyeing a spot on Vic Obeck's big red and white machine. Earle Murphy is rehearsing his version of Sweet Georgia Brown and Reg Whitehouse has personal matters with a certain cute telegram sender.
Among the others, Alan Merrick, Bill Leslie, Bob Baird, Gordie Long, John Harvey, Norman MacLeod, Jack Stryde, Ross Greer, Alex Morrison, Jeff Bridges, John Sante and Joe Cameron are eligible for at least another year with the Leafs and possibly another stab at Hamilton.
Article from NDG Monitor, March 27,1952
NDG Maple Leafs Football Club Look For Big Year
NDG Maple Leafs Football Club picked up enough silver at the annual QRFU trophy night in the Canadian Legion building last Thursday to open a shop. Unfortunately the trophies will go up for competition again in the fall. But judging by the enthusiasm with which the junior provincial champions accepted the cups, they may be around next year to accept them again. Predictions are a little premature and unsafe this early, but football people are peculiar specimens and the excitement of winning is inebriating.
Last week's trophy presentation affair was most entertaining. The players were their own performers and audience. An entertaining show comprising a magician, a piano player, a couple of comedians and a couple of singers, (including, pardon the expression) the Leafs' Stan Easton, balanced the serious note interjected by league president Reg Watson, secretary Norm Gillespie and City Councillor Eddie Asselin.
In the NDG camp Solly Mastro bathed in glory. In succession, his players Reg Whitehouse, John Hersey, Ronnie Lamb, brought the Leo Dandurand, Pat Lynch and Bunny Sabbath trophies to the ruddy-cheeked coach's table. Mastro was so pleased that in gratitude he promptly produced a bulging billfold and said "the drinks are on me". His praise was sung the rest of the evening.
It was a noticeable change from the disciplinarian who runs the Leafs during the regular season.
Team Secretary Charlie Johnson announced he would distribute crests and jackets to players early next month.
There were other causes for rejoicing. Official announcement was made that Leafs George Economides and Reg Whitehouse would try out with the professional Regina Rough Riders this summer. The rookies with the Leafs were spurred by this announcement, a few among them may very well be given a similar opportunity next year.
Others at the head table were the Leafs' genial president Harvey Robitaille Sr., Moe Herscovitch, Eddie Fennel and Bunny Sabbath.