1958


QRFU and Eastern Canadian Champions
Front Row: Terry Diamond, Jack Ingham, Fred Topp, Gerry Langlois, John Schaefer, Stu Williams, Jim Kearns, George Baldo, Bob Shink, Dave Whitehouse, Kevin Dunnigan, Dave McLaughlin
Second Row: Ed Asselin, President, Roy Chesley, Head Coach; Frank Bowers, Eqpmt. Mgr.;Bob Anderson, Peter Lea, Giulio Maione, Wally Kunanec, Unknown, George Alevisatos, Dick Prendergast, Ron Hodge, Brian McCool, Unknown, Unknown, Russ Tholman, Scout; Gerry Hogan, Line Coach
Third Row: Solly Mastro, Vice-President; Unknown, Dick Simmons,Len Davis, Doug Smart, Roger Whalen, John Mouland, Bucky Buchanan, Ron Hitchen, Clifford Martin, Peter McBride, Stu Lawrence, Merv Cater, Coach; George Economides, Coach
Fourth Row: Paul Valois, Treasurer; Brian Mulvaney, Dave Haas, Unknown, Vere Griffiths, Ed Malouff, Butch Montgomery, Unknown, Dickie Rubin, Unknown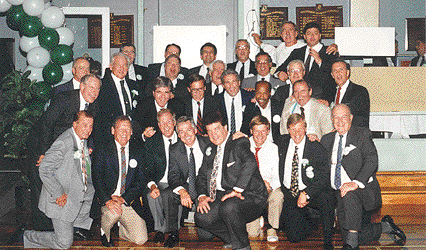 1990 Reunion Photo
http://news.google.com/newspapers?id=a4wxAAAAIBAJ&sjid=cKgFAAAAIBAJ&pg=7204,2434510&dq=sarnia+knights&hl=en
Article from The Toronto Star, November 17, 1958
Leafs Thump Knights, Gain Junior Final
Montreal, Nov 17 - (CP) - The Montreal NDG Maple Leafs moved into the Canadian Junior football final here Sunday by racking up an impressive 22-6 win over North York Knights in the Eastern Canada junior football final.
The Maple Leafs are scheduled to take on Saskatoon Hilltops here Sunday, Nov 23, in the Canadian final.
The hard charging Montreal line was the big difference in the game which saw 13 fumbles, eight by Toronto. NDG rushed North York quarterback Bill Thachuk throughout the game, giving him little time to throw.
Quarterback Bob Anderson was the big gun for Montreal, scoring one touchdown, passing for another and kicking two singles. Vere Griffith and end John Schaffer got the other NDG touchdowns, while Butch Montgomery kicked a single and Bob Shink a convert.
Halfback Jim Cockburn scored Toronto's only touchdown.
Article from The Toronto Star, November 19, 1958
11-Game Win Streak Is on Line When NDG Takes on Hilltops
Montreal, Nov 17 - (CP) - The Montreal Notre Dame de Grace Maple Leafs, eastern Canada junior football champions, carry an 11-game winning streak into the Canadian junior football final against the western champion Saskatoon Hilltops here Sunday.
Coach Roy Chesley rates his squad as "the best junior team I've ever coached". Chesley has been handling amateur football teams around Montreal since World War II.
The Maple Leafs have an impressive record. In their 11 league, playoff and exhibition games the team rolled up 236 points against 34 for the opposition. Thanks to a rock-ribbed defence, NDG has registered five shutouts. Only two touchdowns were scored on the Leafs in Regular games.
Article from The Toronto Star, November 24, 1958
Here's One Title That Goes To West - Hilltops Are Best
Montreal, Nov 24 - (CP) - Saskatoon Hilltops won the Canadian junior football championship yesterday by defeating Montreal's Notre Dame de Grace Maple Leafs, 18-14, before 2,500 fans.
After a scoreless first quarter, Bud Curtis, 21-year-old star of the Hilltoppers, scored two touchdowns in the second quarter. The first TD was on a 49-yard run, while the second was on a pass from Bill Matheson.
The other Saskatoon touchdown in the second quarter was made by Garnet McKee, who took a pass from Bob Relak thrown from the 10-yard line and caught in the end zone. McKee, Curtis and George Werezak were the top ball-carriers for the Saskatoon squad.
At the start of the third quarter, Saskatoon again dominated the play but this winning streak was cut short when NDG scored two touchdowns, one by a one-yard plunge, the second by Shaffer on a pass from Anderson on the 23-yard line. Shink was also credited with two converts.