1962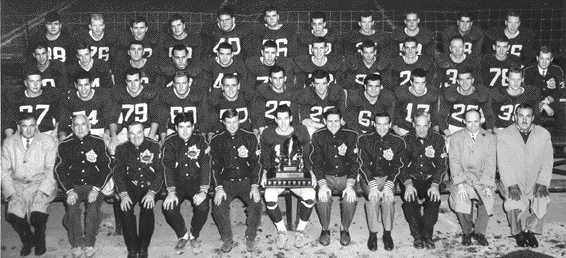 QRFU and Eastern Canadian Champions
Front Row: Logue McDonald, Mr. Smith, Equipment; Frank Bowers, Eqmt. Mgr.; Gerry Hogan, Coach; George Economides, Head Coach; Ron Maddocks, Captain; Gerry Apostolatos, Coach; George Klein, Coach; Stew Carrie, Trainer; Bill Gray, President; Hap Holland, Publicity.
Second Row: Kevin McCready, Phil Chiarella, Gino Berretta, Dave Oldham, Ray Mader, Allan Schreiber, Bob Dougan, Camilo Gentile, Terry Flood, Bruce Barnes, Ted Shytm,
Third Row: Pete Regimbald, Paul Krausman, Gord Wilson, Don Harris, Marvin Canell, Andy Leveille, John Wilson, Bob Gardner, Gary Cullen, Dave Bowen, Ron Kornack, Art Hacking, Asst. Trainer
Fourth Row: Harold Rosler, Fin Petty, Pete Pokoluk, Jimmy Cascadden, John Bumbray, Bevan Carrique, Charlie Dinelle, Gary Morley, Doug Carrier, Pete Tellier, Bob Bentley
Missing: Norm Ellemo, Jim Worsley, Bernie Rodtwitt, Gary MacLeod
From the QRFU 1962 Year Book
The Junior section of the Quebec Rugby Football Union was once again the site of a very close race for the first three places of the regular season.
The Notre-Dame-de-Grace Maple Leafs finally came through with a perfect record of 7 wins in 7 games while the Rosemount Bombers and the Town of Mount-Royal Lions finished in a 2nd place tie with 4 wins and 3 losses each. The Verdun Braves came in fourth with the McGill Indians, who played a 4 points game with every other team in the league, finished last.
After the regular season was completed, Rosemount eliminated the Lions in the semi-final series to win the right to meet the Maple Leafs in the final for the Q.R.F.U. junior crown.
NDG finally won the final by scores of 13-13 and 13-3 over the Bombers before winning the Eastern Canada semi-final and final. But they were defeated by the Edmonton Huskies in the Dominion Final.
ROOKIE COACH AT HELM

New Players Counted On
To Make NDG Contenders

By Herb Brooks
After watching their team finish runners-up for the past two seasons, west-end fans are keeping their fingers crossed that N.D.G. Maple Leafs will 'Go all the way' under rookie coach George Economedes in 1962 as another Junior Q.R.F.U. season shifts into high gear.
It appears likely that most of the interest will center around the outcome between NDG and the pesky Rosemount Bombers, bitter rivals throughout the last two campaigns. Fans can also expect Verdun Braves and Town of Mount Royal to field stronger entries than last year but indications point to the Maple Leafs and Bombers getting top billing.
When Roy Chesley announced his retirement last February, after many years of coaching both High School and Q.R.F.U clubs, it didn't require a "ouija board" to forecast that cigar-smoking Economedes would take over the reins. The 30-year-old has the two "Gs" working alongside in the person of Gerry Hogan and Gerry
Apostolatos, handling the line and backfield respectively.
If there are many new faces in the N.D.G. line-up credit belongs to Economedes and hard-working general manager Logue McDonald who scouted more than a 100 ex-juvenile and high school players from all over the island to attend opening practice July 30.
Among holdovers expected to playa major part in leading N.D.G. back on top include Norm Ellemo, Ron Maddocks, Dennis Oldham, Rickey Samuels, Bas Stevens, Johnny Wilson, Charlie Dinelle, Bevan Carrique, Bruce Barnes, Ron Kornack, Dave Oldham, Finlay Petty, Ray Mader, Teddy Shtym, Bill Ashby and Syd Marovitch to mention a few.
Economedes began his minor football career with the Town of Mount Royal juveniles under Don Wiley in 1947 and gave a good account of himself with the West Hill Senior 'A' squad coached by Chesley from 1947 to 1949.
After high school, 'George joined the junior Maple Leafs in 1951 after sitting out the previous season and joined the intermediate Verdun Bulldogs in '52. The following year he joined the Montreal Alouettes and finished up with the Lakeshore Flyers coached by Bill Davies.
George also enjoyed junior baseball and gained the distinction of being selected to represent Montreal at the World Championships played at Ebbets Field. Verdunite Don Marshall, popular Hab star, was also on the squad scouted by Al Campanis.
The biggest thrill enjoyed by Economedes was an invitation to workout with the Brooklyn farmhands at Vero Beach, Florida, in 1950. This led to an outfield position with a club in Kentucky, but George balked at the terms offered and played for Levis in the Laurentian loop.
N.D.G. fans can probably recall his coaching the midget hockey Terrebonne Royals into two straight city finals before elimination by Verdun Canadiens by scores of 3 - 2 and 2 - 1.
Here's hoping local fans will support the Maple Leafs throughout the season this - could be the year to go all the way.
PUNTS 'N PASSES - Maple Leafs traditional Green and White colors since formation in 1946 will remain this season with introduction of silver gray pants, white stockings and helmets embossed with maple leafs . . . How many fans realize it costs more than $3,000 to operate a junior club? Furthermore, it takes considerable work by the executive to meet obligations since the collections at Trenholme Park during the past few years have only averaged $100 per contest.
* * *
President W. J. "Bill" Gray has reason to smile now and again. Remember the recent Snowdon League Oldtimers exhibition? Close to $500 was collected in aid of the Maple Leafs . . . Doug. Harvey, who has an interest in the Town & Country Motel, elected an honorary director this season . . . A nod in passing to George Cochrane, Monitor sports columnist, for some excellent coverage . . . Your souvenir program is made possible through the kindness of local merchants . . . Last season's all-star guard Brian Hayes, Carl Pigeon, Jack Ingham and Wally Kunanec, former Maple Leafs also gave a good account of themselves at Als' Canadian camp.
Leafs Set For Big Grid Year
By Sid Priddle Montreal Star
N.D.G. Maple Leafs have always been known as a top-flight junior football team. Up until 1960, the Leafs enjoyed a five-year reign on the Quebec Rugby Football Union but were not able to win a Dominion title. Then the power swung to Rosemount Bombers who promptly came through to bring Montreal its first junior football championship in 33 years. The Bombers won the Eastern Canadian title last year.
Now, Leafs could very well be on their way back to glory. Under new head-coach George Economides, they appear to be one of the most improved clubs in the junior league, which comprises Verdun Braves, Town of Mount Royal Lions, McGill Indians, Rosemount and NDG. Certainly on paper the Leafs look good. They've picked up some of the best juvenile players around including Richard Flis, a backfield sensation last year with the St. Laurent Raiders.
Coach Economides figures he will have a good club. He has most of last year's nucleus back again but warns, "the league should be tough all over."
Some of the bright spots with the Leafs are backfielders Bruce Barnes, Ted Shytm, Terry Flood and Norm Ellemo. Ron Maddocks will handle the quarterbacking duties along with Ricky Samuels.
Along the line Pete Pokoluk, a juvenile last year, Gordie Wilson, Pete Tellier and Pablo Maideniw, have shown well.
Economides, who took over the coaching chores when Roy Chesley retired, figures all teams will be hard to beat but pointed out that Rosemount should be the big team. And Economides could be right. Although the Bombers have lost some key ball players coach Ike Amromin feels that if he had a couple of more good linemen the Bombers in might just be as strong as last year.
Bob O'Connell, John O'Boyle and John McConnachie are all back from last year's club. All are linemen.
In the backfield there is Gerry Yaccato, Leon Jacobs, Brian Acton and Dave Hammond. Both Acton and Hammond are rookies but Amromin expects Acton to be one of the best finds of the season. He formerly played with Ville Emard Rams.
Town of Mount Royal Lions and Verdun Braves are also expected to come up with improved clubs. "I've heard very little from Verdun," says Economides "and that usually spells trouble."
Photo from Article:
A couple of highly rated backfielders with the NDG Maple Leafs are Terry Flood, left, and speedster Bruce Barnes. Flood was picked as most valuable player in the Lakeshore Juvenile League last year. Barnes, meanwhile is a second year man.
Article from "Montreal Gazette" September 8, 1962
Leafs Beat Braves In Comeback 28-16
Trailing 16-15 with about three minutes to play, NDG Maple Leafs came up with two late touchdowns to defeat Verdun Braves 28-16 in the QRFU junior opener last night at Trenholme Park.
A long end-zone pass from Quarterback Ron Maddocks to Bruce Barnes provided the winning touchdown which Gino Berretta converted. Barnes followed up with another major from the three-yard line after the Braves had fumbled on their first play from scrimmage after the kickoff.
It was a see-saw battle before that. NDG led 7-3 after the first quarter and 15-3 at the half. Verdun came back with majors in the third frame and early in the fourth.
Terry Flood and Dave Bowen were other touchdown scorers for the Leafs with Berretta kicking three converts and a single.
Tony Christiano was the big gun for the Braves. He booted a 33-yard placement, scored a touchdown and a convert. Richard Carlin got the other Verdun touchdown.
Leveille Defence Star
Andy Leveille was the defensive standout for NDG while Paul Crossman, Bev Carrique and Norm Ellemo also played well. Gary Mathers and Mike Spears were the defensive stars for Verdun.
Junior league action continues Sunday night at Morgan Park where Rosemount Bombers will entertain Town of Mount Royal Lions at eight o'clock.

Left to Right: Gino Berretta, Terry Flood, Dave Oldham, Camillo Gentile, Ted Shytm, Marv Canell, Ron Maddocks, Ray Mader, Bruce Barnes, Pete Tellier, Allan Schreiber, John Wilson.
Article from the Ottawa Citizen, November 7, 1962
Sooners in Montreal For Playoff On Sunday
Ottawa Sooners have some tough opposition ahead of them as they go into Eastern Canada junior football semi-final action this Sunday in Montreal, but general consensus is that they'll survive.
Sooners are the first Ottawa entry in the Canadian playdowns in five years and most observers agree that they're the strongest club to go from here to the nation's playoffs in a long time.
The Junior Interprovincial Football League Champions meet Notre Dame de Grace Maple Leafs, the Quebec provincial champs, Sunday in Montreal.
Sooners have scouted their opposition, who upset Rosemount Bombers. One of the Maple Leafs is Gino Berretta, who had a brief trial with Montreal Alouettes.
Coach Don Holtby has been drilling the Sooners every day since their final game against St. Bonaventure last Saturday. Sooners won the two-game total-point series against Riders 48-6.
The main thing Holtby has been stressing in these sessions has been an aerial attack. Sooners have relied on a running game all season and feel that they will have to take to the air against Montreal.
However, Sooners ground game during the regular schedule paid off in no uncertain terms. The club suffered only one loss all season and allowed only 41 points to be scored against them.
Article in Ottawa Citizen, November 12, 1962
Montreal Gridders Clip Sooners
By Bob Louks
MONTREAL - Montreal added salt to a still open Ottawa football wound here yesterday in an Eastern Canada Junior football semi-final. The Quebec provincial junior champion Notre Dame de Grace completed Montreal's weekend conquest over Ottawa with a 32-0 victory over Ottawa Sooners.
Maple Leafs now advance against Sarnia Knights, who blasted Toronto's Lakeshore Bears 19-0, in the other semi-final, in the Eastern Canada final in Montreal on Nov. 17.
Although Sooners put up a battle all the way, not once showing any signs of letting up, the Montreal squad had just too much polish.
Poor Field
The fact that the field was in the worst possible condition, muck and mud from one end to the other, did not help Sooners, who have relied on a running attack all season.
The flip of a coin and a 25 mile an hour wind also helped decide Sooners' fate. Maple Leafs won the toss and the wind.
The kickoff went well into the Sooner end zone, but was carried out to three-yard line line. The ball then changed hands three times before Maple Leafs' Ron Maddocks hit glue-fingered Allan Schreiber with a 25-yard pass on Sooners' 10 yard line and Schreiber went the rest of the way and scored easily.
The major was copied two more times by Maple Leafs' Terry Flood and Ted Shytm before the quarter ended. Gino Berretta, a punter last year with Montreal Alouettes, converted two to make the score 20-0 at the start of the second session.
Article from The Hamilton Spectator, November 26, 1962
By Barrie Williams
Dogged Huskies win Little Grey Cup

Defence Beats Montreal 7-3
The yellow and black team won the Grey Cup yesterday, but before the Tiger-Cats take this as an omen, they should remember that the victors came from western Canada.
PLAYING before a crowd of more than 7,500 the Edmonton Huskies, western Canadian junior champions, defeated the east's entry, Montreal Notre Dame de Grace Maple Leafs 7-3, in Canada's Little Grey Cup.
The victory marked two firsts for the Edmonton club, and one for Montreal.
It was the first time the Huskies had been in the national finals, and it was the first time that an Alberta club had captured the crown. For Montreal it was their first loss of the season.
A dogged defence kept the yellow and black Huskies in the game as they were outclassed in every statistic except the scoreboard.
In the second half the Huskies only got outside their own 35-yard line once - on a third down kick, but the Montreal team could not put together a scoring drive.
THIS WAS due partly to Montreal quarterback Ron Maddocks, who suffered a cracked thumb on his throwing hand in the third quarter and could not control the ball properly.
"But we are certainly not using this as an excuse. That Edmonton team was tough and had a great defence," said a disappointed Montreal coach, George Economedes.
The only statistic in which Montreal lost was in the kicking department when former Montreal Alouette, Gino Berretta was outkicked by a second-string Huskies punter.
But Berretta made up for his short kicking in the last half, when he became the number one pass-catching end and made several great catches and runs.
Montreal picked up 247 yards rushing to Edmonton's 205. In yards passing, the Montreal club had a big edge, 186 to the Huskies 86.
THE MONTREAL club tried 23 passes and completed 11 with two interceptions, while Edmonton only completed two out of seven and had four intercepted.
In punting Berretta averaged 33.3 yards on three punts, while Jon Sterling booted seven kicks for a 39.2 average.
Sterling was filling in for kicking specialist Manny Sarnowsky, considered the team's best pro prospect who suffered torn ligaments in the western final against Winnipeg St. James Rods.
Edmonton opened the scoring in the first quarter after a Tony Rankel pass from the 35 went incomplete.
Sterling kicked on third down and Norm Ellemo was trapped behind the line.
The crowd, neutral at first, swung over to Edmonton's side late in the second quarter when speedy Clarence Kachman went 79 yards for a touchdown, which was called back when the Huskies were penalized for clipping.
IN THE third quarter, Berretta was wide on a field goal attempt and salvaged a single to tie the score.
Edmonton got the clincher after Edmonton quarterback Rankel sneaked over from the one. The convert was wide. Kachman set up the score when he took a Rankel pass for a play that covered 84 yards.
Edmonton had a big scoring opportunity late in the fourth when they got a first down on Montreal's two-yard line but failed to put it over, fumbling on third down.
Montreal picked up its other two points on a safety touch when the Edmonton kicker dropped the ball after a bad snap on a third down punt.
The Edmonton club had failed to move the ball from their one and Sterling was forced to attempt his kick from well inside the end zone.
More than 12 players were helped from the field due to crisp blocking and tough tackling.
THE MONTREAL club featured a one-two punch of halfbacks Bruce Barnes and Terry Flood, but the easterners, knocking on the door several times in the second half could not round out the drives with touchdowns. Twice they were on the Edmonton two-yard line.
Edmonton showed an Eskimo-type of attack, grinding out yardage in the first quarter. They also displayed great ball control during that first 15 minutes limiting Montreal to only seven plays from scrimmage.
After that the easterners took over and won cleanly - on statistics but not on the scoreboard.
The game, sponsored by the Shriners, is an annual event in aid of crippled children.
Article from The Hamilton Spectator, November 26, 1962
By Barrie Williams
He's Dripping With Pride
First of all they soaked him with soft drinks and then they carried him to the showers and threw him in.
Minutes later, his clothes saturated and water streaming down his face, Edmonton coach Dennis Kadatz, stood on a bench in the unbelievably noisy Huskies dressing room and said simply: "Thanks boys, you played a great game. To all the graduating players, the best of luck."
Cheers filled the steamy dressing room and several Edmonton players attempted to give the coach a repeat shower before someone yelled, "Give him a break."
Finding a corner and stripping off his soaked suit, Coach Kadatz credited his team's victory to his defence. "Our defence just beat them…. look at the number of passes we had intercepted."
He said although the Montreal team played a hard type of game," they were not as tough as the Winnipeg St. James Rods who we beat in the final."
He added: "We played a better game against Winnipeg than we played today. I figured we had it when there were two seconds to go."
It was pure bedlam in the dressing room as the players, tossing off mud-stained uniforms just broke out into cheers at the drop of a pop bottle. They sang, cheered, hugged each other and simply went wild.
One player, grimacing from a back injury, said "it was really tough out there…. really tough…"
The Edmonton team started its celebrations as the final gun went, hoisting coaches on their shoulders and shouting madly while on the field.
As they did this, several green and white suited Montreal players, after shaking hands, wiped tears from their eyes as they pushed their way through the excited mob to the quiet of their dressing room.
The plop of shoes, sweaty uniforms and helmets, dropped disconsolately on the floor and the occasional sigh sounded loud in the losers' dressing room.
In a corner, coach George Economides, reflecting on his team's first loss of the season said, "There outside running hurt us the most. That is a well-drilled ball team… the best we have played all year. "Usually we pass a lot to our halfback, but we knew they had us well-scouted for the game so I instructed our quarterback to throw to different targets in order to cross them up."
The undressing continued and so did the silence.
The team knew it had played a great game - but it had lost.
Article from Edmonton Journal, Nov 26, 1962
Ever-Lovin' Huskies Do It

Little Grey Cup Belongs To Them
By Wally Cross
Ring out the bells, sing it loud and lusty
The Leafs are dead, long live the huskie
Edmonton 7 Montreal 3
If anyone had suggested four months ago, that Bobby Doige, Lang Jameson or pint-sized Clarence Kachman of the Edmonton Huskies might play decisive roles in the 1962 Canadian junior football final, they would have faced the Fulton treatment.
Run a boat on steam? Ridiculous.
In July Jameson was considered just another average defensive end. Not an all-star, but competent. Doige was an equally competent halfback. And Kachman, although he does come by his All-Star label honestly, was really too small to actually hurt anyone.
So what happened yesterday? Kachman set up the knockout blow that brought Edmonton its first Little Grey Cup in history. Jameson supplied the crunching tackle that actually broke Montreal's heart. And Doige roamed the defensive backfield like a marauding panther, snapping off interceptions left and right.
In the universal dice game, we all try to throw sevens. Some make it, many do not. But it has to be agreed that Huskies rang up the longest consecutive string of straight passes in history here Sunday.
With quarterback Tony Rankel calling the offensive signals and tackle Bob Bateman naming the defensive shots, Huskies followed to a letter the philosophy of the late, great Red Sanders: "Winning isn't everything, it's the only thing."
As corny as it may sound, the Sled Dogs of Dennis Kadatz were a team that wouldn't be beaten. They heard the predictions Saturday night. "Montreal all the way," and "the East by 20 points." Berretta will kick them out of the park, and "they can't possibly cope with Montreal's passing.
The Big Moment
They heard the predictions, filed them in the old stew pot, let them simmer, and then flung them back in the face of their adversaries Sunday.
On the strength of a third quarter touchdown by Rankel, Huskies defeated Montreal Notre Dame de Grace Maple Leafs to become the first Alberta team ever to win the Dominion title.
Rankel, despite the word from Annis Stukis that he called a poor game, made little or no mistakes. In fact to the 7,000-odd non-guessperts in the stands, he looked like a seasoned professional, cool, calm, and collective.
The Edmonton quarterback dove over from the two for the only major of the game after combining with Kachman on an 84-yard pass and run play to set up the touchdown. Kachman had an earlier 78-yard touchdown called back because of clipping.
The decisive scoring came in the third quarter scant seconds after Berretta had put Maple Leafs right back into the thick of the battle with a 26 yard single.
Rookie Jon Sterling counted the other Edmonton point, a 35-yard single in the first quarter.
Montreal got their other points on a safety touch in the final period when Sterling had trouble controlling a bad snap in his own end zone and was decked by Maple Leaf end Fin Petty.
Huskies took a 1-0 first quarter lead and maintained the edge at the half. But Berretta tied things up at 7:24 of the third session and it appeared that the vaunted Montreal attack was finally beginning to click.
Then, on the very next play, Rankel reared back on his own 25 and fired a 50-yard pass to Kachman who dangled the remaining distance to the two. Rankel then chose to carry the mail himself and Huskies never trailed again.
Although statistically out-classed in practically every department except broken shoelaces and punting, the Huskies more than made up for things on defence.
The "headhunters experienced their finest hour in not once, not twice, but three times throwing up an impenetrable wall within their own five yard line to force the Montreal offensive squad off the field in a state of bewilderment.
Jameson supplied the key tackle in stopping Montreal's Mr. Wonderful, quarterback Ron Maddocks, on the Huskies one-yard line when it appeared almost certain that the Maple Leafs third-down gamble would pay off in a touchdown and once again deadlock the score.
The Edmonton defensive backfielders had their moments, too. Doige, Gord Williams and Clare Johnson combined to pick off four of the five passes intercepted by the Huskies. Doige got two and Bateman snared the other right on the line of scrimmage.
Article from The Edmonton Journal, Nov. 26, 1962
By Hal Pawson, Sports Editor
Huskies? They Hung On More Like Bulldogs -
Let's call off the Grey Cup this year. I can't imagine how it can possibly match the weekend diet most of us choked up on. It has to be anti-climactic.
Take that Stampeder-Bomber bit in Winnipeg. That had to be seen to be believed, Then follow it in 1 one day with the Edmonton' Huskies' do-or-die-stand against the big, powerful Notre Dame de Grace Maple Leafs from Montreal. Pass the adrenalin.
My hats off to Tony Rankel, Clarence Kachman and the others on the Huskies' fine, little offence. But whenever I recall Edmonton's first-ever national junior football championship, I'll recall with awe Bobby Bateman's Bandits, the Huskie defence.
In the first 50 minutes they had done everything defence could be asked to do against the Leafs, had virtually wrecked Montreal's great passing attack with interceptions.
They had hammered themselves to near exhaustion against the bigger opposition. But for them, the game hadn't started.
The real war came in the last 10 minutes. I lost track of how many times they had to stop the Leafs to win - and did. Each time I believed another stand was physically impossible, regardless of how indomitable Huskie spirit might be.
Common sense said they ha d to yield, but what has common sense to-do with a team that didn't know when it was beaten?
May Edmonton's sports buffs appreciate the effort, and come up as big for the youngsters at tonight's public homecoming in the Jubilee Auditorium. They were great, but had to be to top the kind of stuff the Maple Leafs showed.
The Maple Leafs (I think he meant Huskies) and Edmonton are about as happy as the Stampeders and Calgary are sad.
Article From The Edmonton Journal, November 26, 1962
By Wally Cross
Edmonton Win Solved Problem Of No Mug

HAMILTON- Huskies attended a civic dinner Saturday evening and were presented with miniature gold trophies on behalf of the Shriner's who sponsored yesterday's Little Grey Cup Game…. The Montreal players were also presented with trophies and the two teams sat on opposite sides of the room glaring at each other for all of two and one half hours while the head table guests tossed bouquets back and forth among themselves…. The Edmonton team will tour a clothing manufacturing plant today and each receive a pair of tailored slacks courtesy of Cal Pickles who led Huskies' cheering section yesterday…. As a result of their 7-3 victory over Montreal Notre Dame de Grace Maple Leafs, Huskies received the gleaming new Little Grey Cup (actually a gold trophy with a football on top) and the Regina Leader-Post trophy of 1925 when the Dominion final was first organized…. Nobody was more pleased to win the Cup than head coach Dennis Kadatz. Huskies have won nothing but trophies this year and up until now, haven't had a Mug to drink the legendary champagne out of. … Ron Maddocks, the Montreal quarterback stepped onto the field sporting a jaunty little Errol Flynn-type moustache, which helped considerably in firing up Huskies…. End Ron Forwick in particular, was absolutely infuriated and swore he'd make Maddocks eat his moustache for spinach before the game was out…. He did too.
* * *
Maple Leafs used Gary Cullen at quarterback in the dying moments of the game and his first pass was picked off by Clare Johnson of the Huskies…. The jubilant Edmonton team hoisted Kadatz into the air and marched back and forth across the field before finally stopping to pose for pictures at the conclusion of the game. Gino Berretta was the big pass receiver for Montreal, although a Maple Leaf player said later that he thought both of the Montreal ends played better than usual…. The consensus of the Huskie coaches was that the Edmonton team didn't play as well Sunday as they did in the Western final against Winnipeg…. The only Edmonton rushing play to gain more than 11 yards was Kachman's 34-yard sweep around left end to the Montreal three-yard line. Huskies had two shots at the line, then fumbled and lost the ball.
Jon Sterling, punting for the first time in an actual game, provided one of the big surprises by outclassing Gino Berretta, a former Montreal Alouette, in the kicking department…..(Berretta had suffered a severe gash to his lower kicking lea in an accident the night before the game which required numerous stitches. The injury was kept secret and only the coaches and team Dr. Bob Cornforth knew about it….BB). Sterling booted seven times for an average of 39.1 yards. Berretta's average punt was 29.7 yards in four tries…. The win for Edmonton is the second in a row for the West in the two years the Shrine has sponsored the event. St. James Rods defeated Montreal Rosemount Bombers last year…. All monies raised by the game support the Shrine's Crippled Children hospitals in Montreal and Winnipeg. Upwards of 10,000 one-dollar tickets were sold.
Article From The Edmonton Journal, November 26, 1962
By Wally Cross
Quotable Quotes From Winning Camp
HAMILTON - From the shower room in the Edmonton Huskies room these drops of pure, unadulterated excitement were condensed.
Quarterback Tony Rankel - "We won it. We won it, we won it, we're the champs."
Middle guard Paul Brady - "I can't think of a better way to end my junior football career. It's been a great season, but I don't think I could go through another one like it."
Halfback Don Brazeau - "Now, we're one up on the Oil Kings. We finally won a junior championship for Edmonton."
Huskies president Fred Windwick - "I want the cup. Just let me kiss it once."
Defensive tackle Bob Bateman - "I guess you can say we came up big when we had to. Lang Jameson played the best game of his life today. If he hadn't cut down Maddocks on our one in the fourth quarter, we'd have been dead."
Jameson, who had the able assistance of big Tom Machan on the tackle and was carried off the field on a stretcher after making the stop, said his injury wasn't serious.
Head coach Dennis Kadatz - "I never thought we could do it, but the guys were great. We were giving a bit of ground in the fourth quarter, letting them have the short passes to keep them from getting the long ones. As it turned out, the move paid off. When they did throw long, Johnson intercepted, and gave us a chance to play out the clock and win."
Defensive end Lang Jameson - "It only hurts when I smile. Actually, I really don't think they needed the stretcher. All I did was tear a couple of ligaments or something in my knee, nothing serious. Weren't the fellows great today?"
Halfback Clarence Kachman - "What do you know, we won."
Defensive halfback Bob Doige - "I have a feeling that golden arm of Ron Maddocks is going to be black and blue after this one. Not taking anything away from him, mind you, he's a fine quarterback, but Rankel is better."
Guard Sam Kravinchuk - That number 69 - (Bernie Rodtwitt - six-two 255 pounds) is the biggest and toughest lineman I've ever seen. I moved him about a foot in the whole game. Man, I'm worn out."
Defensive halfback Don "Gopher" Green - "I had a heavy cold going into this one. Now, I feel like a million dollars."
And across the way there was nothing but silence. A few players sobbed, unashamed. Just a game, but the Leafs lost it, and they took it hard. It could just as easily gone the other way. The huskies are champions and deserving ones. Long live the champs.
Game Statistics EDM. NDG
First Downs 18 23
Yards rushing 205 247
Yards Passing 91 186
Passes tried 7 23
Passes Completed 2 11
Passes intercepted by 5 2
Punts 7 4
Average Yards 39.1 29.7
Fumbles 4 2
Fumbles Lost 1 0
Penalties 3 4
Yards penalized 15 40