1963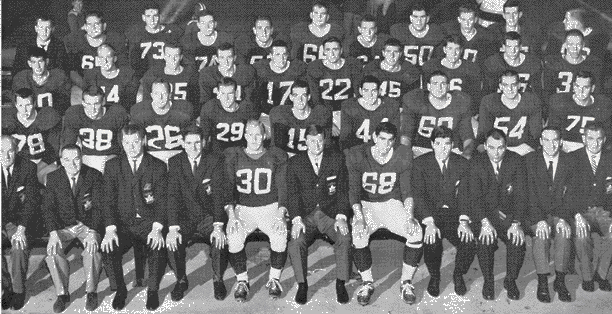 Eastern Canadian Junior Champions
Front Row: Stew Carrie, Trainer; Frank Bowers, Equipment Manager; Ian MacDonald, Assistant Coach; Gerry Apostolatos, Assistant Coach; Norm Ellemo, Captain; George Economides, Head Coach; Pete Tellier, Captain; Gerry Hogan, Assistant Coach, Mike Kovac, Assistant Coach, George Klein, Assistant Coach; Logue MacDonald, Manager
Second Row: Ron Willimus, Clarke Buskard, Don Cave, Peter Shea, Sandy Purdie, Marv Canell, Bernie Rodtwitt, Doug Carrier, Unknown
Third Row: Peter Regimbald, Larry Weir, Rick Fairbairn, Gary Morley, Terry Flood, Alistair Lawrence, Ed Burns, Jim McKean, Bob Gardner, Dave Bowen
Fourth Row: Art Hacking, Trainer; John Bumbray, Ken Stefaniuk, Ken Galloway, Ray Mader, Bevan Carrique, Trevor Buddo, Dave Crockart, Basil Bark, Unknown, Dave Oldham
If anyone wants a copy of the Canadian Final DVD against Edmonton Huskies in Calgary, get in touch with me at bdbarnes@rideau.net
Article from Montreal Gazette, Oct. 63
Leafs Trounce Lions 45-6
Diminuitive Pete Regimbald took three touchdown passes from quarterback Jim McKean to pace NDG Maple Leafs to a resounding 45-6 victory over Mount Royal Lions in a spirited game at St Laurent's Olympic Park last night.
The Leafs take a 39-point lead into the two-game provincial junior football final at Trenholme Park Sunday night at eight o'clock.
NDG, unbeaten in league action this year, roared to two touchdowns in the first quarter before relinquishing the only score to the Lions. Then they methodically romped to a 32-6 margin at the half.
Besides Regimbald, Don Cave, Bob Gardner, Ken Galloway and second-half quarterback Sandy Purdie scored touchdowns for the Leafs while McKean kicked three converts. Two others were blocked.
Tom Irvine took a14-yard pass from quarterback Jack Keating for the only Lion touchdown in the second quarter before suffering a broken ankle. He was taken to hospital from the game.
NDG Threatened with another drive in the final minutes but Terry Flood was stopped on the one-yard line with TMR taking over.
McKean, playing a standout game, tossed touchdown strikes to Regimbald from the 13, nine, and 25-yard lines. A 58-yard passing gain by Rick Fairbairn set up the second score.
Keeper Play
Cave scored on a pitchout from the 15 while Gardner took a pitchout from the three after a 40-yard pass interception.
In the second half, Purdie scored on akeeper play from the five and passed to Galloway from the one after Galloway set up the score with a39-yard pass.
Standouts for the losing Lions were Wayne Lang, Bill Marchitello, Bob Berry, Matt Delvecchio, Bob Palov, George Fournier and Vic Chortyk while Alastair Lawrence, Gary Morley, Bevan Carrique and Andy Leveille shone for the Leafs besides the scorers.
Article from Montreal Star, Oct. 1963
N.D.G. Grid Leafs Set For Tough Ottawa Tilt
After walking through an undefeated schedule, including playoffs, in the junior section of the Quebec Rugby Football Union, the NDG Maple Leafs now start playing for keeps. It all starts this Sunday in Ottawa when the Leafs face a powerful Ottawa Sooners club in a sudden-death Eastern Canadian semi-final championship.
The Leafs, of course, are defending Eastern Canadian champions losing only one game last year and that one being to the Edmonton Huskies in the Canadian final.
However, this is another year for the Leafs and while many people figure the club to be even stronger than last year, it seems that this is the case with most of the junior football clubs throughout the country.
In fact the book on Ottawa is that they won't be easy pickings for anyone and especially NDG. One report on thr Capita'l's Sooners is that they boast a powerful passing attack and apparently have very little respect for the Leafs defensive corps, especially the linebackers.
A spokesman for the team has been quoted as saying that the NDG linebackers were too slow and that the Sooners could "kill" them with outside running.
The big question with the Leafs is whether the lack of competition this year in the QRFU is going to hurt them in these playdowns?
The Leafs scored almost at will throughout the season until the last game of the playoffs against the Town of Mount Royal Lions when the Lions found a weakness in the NDG pass defence.
This has obviously been of great concern to the Leafs coaching staff who have been concentrating on pass defence this week.
"I think our offence is ready but, we need some more work on our defensive unit", said head-coach George Economides.
"The offence has been playing good ball all year, but we must get that defence to jell or we could be in trouble," concluded Economides.
Some of the men that have been carrying the Leafs' offence this year by making key blocks are Dave Oldham, Clement Goulet and Marv Canell. Oldham was with the club last year and his experience has shown well on the field. He suffered a shoulder separation early in the season but, was a big man in the QRFU playoffs.
Another lineman who deserves some notice is Bevan Carrique, a standout on defence. Carrique, along with John Bumbray and Bernie Rodtwitt have made things quite miserable for opposing teams with their head-hunting type of football.
Article from The Toronto Star, November 8, 1963
Bears Have Built Toward This Game
Meet NDG Leafs
This is the year toward which Lakeshore have been building.
Coach Nick Volpe has invested several seasons in developing a strong junior football club and the result of his endeavours gets the big test Sunday. Bears face Notre Dame de Grace Maple Leafs in the Eastern Canada final, to be played at St. Michael's College Stadium. Kickoff is at 1 p.m.
"This didn't happen all of a sudden." said Volpe, discussing his well-balanced club. Most of these players have been together two or three years."
Defensively, Bears yielded 23 points in 10 games, as they knocked off unbeaten Invictus in their league final, then beat Sarnia in the Ontario playoffs.
Offensively, Vic Wozniuk is equally adept at passing or at handing off to his twin fullbacks Pete Heenan and
Don Kopplin. Heenan scored 42 points this season so far, Kopplin 66.
Leafs, a suburban Montreal team, are a huge obstacle in Bears' path to the Little Grey Cup game at Calgary. They are defending champions and outweigh the Toronto club by a wide margin.
Article from Montreal Gazette, Nov. 1963
NDG Leafs Gain Eastern Junior Crown
TORONTO - (CP) - Powerful Notre Dame De Grace Maple Leafs qualified Sunday for a chance at the Little Grey Cup by defeating Lakeshore Bears 34-12.
The NDG team now will meet Edmonton Huskies for the Canadian crown to be played in Calgary next Sunday.
Triple-threat quarterback Jimmy McKean led his NDG team with two field goals, three converts and pinpoint passing to halfbacks Al Lawrence and Dave Bowen for two touchdowns.
Bowen scored another major in the fourth quarter on an 82-yard run from the kick-off after Lakeshore's second touchdown by Don Kopplin. NDG's other points came from Norm Ellemo and Ken Galloway with Terry Hemmins getting Lakeshore's other major.
NDG remains undefeated during season and playoff games with 11 wins and one tie to their record.
Early Lead
The Maple Leafs led 3-0 after the first quarter on a 16-yard field goal by Jimmy McKean. Earlier in the quarter, Bears quarterback Vic Wozniuk threw a long pass to Dave Bailey in the clear only to see him drop it.
At half time NDG had increased its lead to 17-6 with some fine signal calling by McKean. Clark Buskard intercepted a Bears' pass at the Bears' 25-yard line. Three plays later McKean threw a touchdown pass to Dave Bowen in the end zone for their first major score.
The fake convert attempt was thrown to Ken Galloway for the single point. Bears finally got rolling with a 58-yard pass and run from Wozniuk to Kopplin to the NDG 25-yard line. Two plays later Wozniuk completed a 25-yard pass to Terry Hemmins in the end zone. The convert was missed.
Just before the half came to a close McKean again threw a perfect pass to Al Lawrence on the run for a 66-yard NDG touchdown. The convert was good by McKean.
There was no scoring in the third quarter with some fine defensive line work by both teams. NDG standouts were Dave Crockart, John Bumbray and Bernie Rodtwitt, with Ted Aldridge and Fred Ternoway shining for the Bears.
Wide Open
The fourth quarter was wide open with NDG scoring first on a 20-yard field goal by McKean. Five minutes later Don Kopplin went off tackle for three yards to narrow the score to 20-12. The important convert was blocked by Bernie Rodtwitt.
Highlight of the game came when Dave Bowen returned Lakeshore's kickoff 82 yards to take the lead 26-12. The convert was good by McKean.
Early in the third quarter, quarterback Jimmy McKean was shaken up and had to be replaced by Sandy Purdie. McKean was able to continue kicking chores.
LINEUPS
NDG MAPLE LEAFS - Halves: Regimbald, Weir, Flood, Lawrence, Fairbairn, Cave, Shea, Ellemo, Bowen, Gardner, Buskard, Burns; quarters: Purdie, McKean; centres: Bark, Canell; guards: Crockart, Mader, Bumbray, Carrique, Goulet; tackles: Oldham, Buddo, Tellier, Rodtwitt; ends: Leveille, Galloway, Roman, Willimus.
LAKESHORE BEARS - Halves: Clarke, Lush, McKee, Bailey,Wisnioski, Hemmins, Kopplin, Nastao, Dulmanis, Campbell, Rick, Dudley, Heenan; quarter: Wozniuk; guards: Yeatman, Brayman, Hutzel; tackles: Aldridge, Teroway, McMahon, Trory, Crawford; ends: Klazer, Lowe, Grimley, Hogan.
Referees: Jim Fumio, Hamilton; Senior Umpire: Bud Wiley, Montreal; Junior Umpire: Hugh Cuddle, Toronto; Judge of play: Pat McAleese, Montreal; Head Linesman: Bill Fry, Toronto.
Article from The Toronto Star, November 11, 1963
Als won't ignore McKean now
NDG's Pivot Great

By Frank Orr
Jimmv McKean received the cold shoulder from Montreal Alouettes at last year's Canadian rookie camp, but the chances of such treatment happening again are mighty slim.
McKean quarterbacked Notre Dame de Grace Maple Leafs to a 33-12 win over Lakeshore Bears at St. Michael's college field yesterday. The victory gave the Quebec champs the Eastern Canada Junior football title and a trip to Calgary next weekend for the final.
McKean is 19 years old, stands 6-foot-2 and weighs 210 pounds. He amply illustrated his talents by throwing two touchdowns and adding nine points with his placekicking. In addition, he looked after the punting. A third-quarter cbarley horse reduced his work to kicking.
McKean, who graduated from high school last year, joined NDG in the three-team Quebec league and has guided them to an unbeaten season. Alouettes know he exists now and he'll get the long look next year.
The youngster is the most skilful passer of junior age to show here in several years. His punting and placekicking talents make him a natural for pro football.
The NDG line, anchored by 260-pounders John Bumbray and Bernie Rodtwitt gave Lakeshore a rough time Bears' quarterback Vic Wozniuk, working under a tremendous rush, hit on but 14 passes in 36 tries.
McKean combined with Dave Bowen on a 10-yarder and Al Lawrence on a 60-yard heave for touchdowns. Bowen ran 16 yards and Ellemo returned an intercepted pass 30 yards for the other scores. McKean added two field goals and three converts.
Wozniuk hit Terry Hemming with a 40-yard pass for one Lakeshore major and Don Kopplin plunged two yards for the other.