1964


QRFU and Eastern Canadian Champions
Front Row: Hap Holland, VP, Public Relations, Frank Bowers, Eqmt. Mgr., Mike Kovac, Coach; George Klein, Coach; Logue McDonald, General Manager; George Economides, Head Coach; Solly Mastro, President; Gerry Hogan, Coach; Ian MacDonald, Coach; Bruce Barnes, Asst. General Manager; Ray Binmore, Vice President
Second Row: Stew Carrie, Trainer; Bob Gardner, George Filotas, Malcolm MacDonald, Marvin Canell, Rick Fairbairn, Peter Shea, Pete Regimbald, Bill Dixon, Brian Toner, Bruce Johansson, Doug Leadbetter, Clarke Buskard, Les McLennan, Asst. Manager
Third Row: Ken Galloway, Ron Roman, Ron Willimus, Bruce Soutter, Joe Arcaro, Stan Schreiber, Sonny Wolfe, Trevor Buddo, Allen Schreiber, Jim Hamnett, Tom Dyce, Ray Mader, Gord Potter, Basil Bark
Missing: Stan Smith, Sandy Purdie, Gary Mathers, Gord Ripenburg, and Richard Ryan-Director
From Elmer Ferguson's Column "The Gist and Jest of It"
Montreal Star, May 26, 1964
POSSIBLY the most interesting figure around when the huge squad of N.D.G. Maple Leafs, junior football champions of Eastern Canada, trotted out last night at Trenholme Park for their first outdoor work, wasn't a player. Not a Leaf player, that is, but a better than fair hand at the game at that.
It was George Dixon, generally rated the best running half in Canadian football, and it may be that George, dedicated to football, was starting to lay foundations for a scouting career in future years. For from his car, he watched the 70-man drill intently, and likely will do some reporting to coach Jim Trimble of the Als today.
This junior football is getting to be big stuff, well organized, well-coached teams, who really play the game. This year, the trio that comprise the Metropolitan Junior Football Conference will be far more evenly matched than ever. The Town Lions and Easton Chargers are the other two clubs in the circuit. Lions, at their opening drills, had 75 players out. Chargers have done some indoor work.
Leafs have lost three of last season's stars by the over age route, but there are many fine juveniles coming up. Last night, the two starry quarterbacks of the club, triple threat Jimmy McKean and aggressive Sandy Purdie were at the drill, along with Bob Gardner, two-way half and fullback, voted by his mates last season the most valuable player on the team. Other stalwarts of last year, Pete Regimbald, Ray Mader, voted most valuable linesman, Bevan Carrique and Pete Tellier were among the 70 players who toiled under head coach George Economides, with such capable assistants as Jerry Hogan, George Klein, Mike Kovac, and Ian MacDonald. Logue McDonald, aided by Bruce Barnes runs the team, which up to now has been the strongest junior group in the east.
Article from "The Monitor" May 28, 1964
Leafs Drills Well Attended
At the Maple Leafs Football Club on practice on Tuesday at Trenholme Park it started to rain quite early.
The turnouts have averaged about seventy per evening and there are some very likely "looking candidates" among the group. However, it would be very foolish to try and judge, just how good some of these prospective players are, at this stage, because when they really start knocking heads some of the speediest suddenly slow up and some of the slower looking candidates gain a great deal of speed.
However, it is most encouraging to see so many potentially strong appearing boys.
Coach George Economides and his "Fearsome Five" will have their hands full replacing the thirteen graduating players these being: - "Ed." Burns, Dave Bowen, Dave Crockart, "Bob" Cole, Steve Doty, Norm Ellemo, Terry Flood, Camillo Gentile, Alastair Lawrence, Andy Leveille, Gary Morley, Ken Stefaniuk, John Wilson and Larry Weir. All of these thirteen foregoing players graduated via "the overage route."
The Leafs are fortunate that some of their outstanding players are returning these include: Sandy Purdie, Jim McKean (last year's two quarterbacks), Bob Gardner, Rick Fairbairn, Pete Regimbald, Basil Bark, Marvin Canell, John Bumbray, Bernie Rodtwitt. Kevin McCready, Ray Mader, Pete Tellier, Bevan Carrique, Trevor Buddo, Ken ("The Clutch") Galloway. The newcomers include Gordon Reid, Gary Mathers, Glen Scott, John Rennie, former Verdun Shamcats (Juniors) of 1963. Coach Economides intends practicing for the balance of the week including tonight and tomorrow night (Friday) and calling off all activity till late in July or early in August, then settling down to a rugged fall campaign which he hopes this year will end up with that very evasive "National Junior Title" or "The Little Grey Cup."
Meanwhile President "Solly" Mastro and the rest of the Maple Leafs' executive face a big job of "fund raising" which is such a necessary part of the successful handling of a Junior Football Club.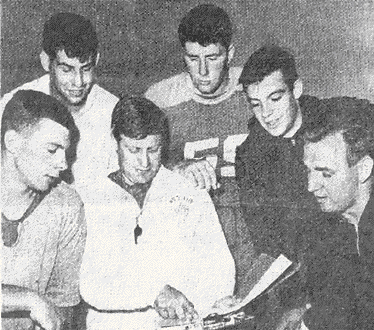 Strong Nucleus Remains: Head Coach George Economides is surrounded by MVP's Bob Gardner and Ray Mader (kneeling) with wingback Pete Regimbald, left, and quarterbacks Jim McKean and Sandy Purdie standing.
From "The Monitor" June 25, 1964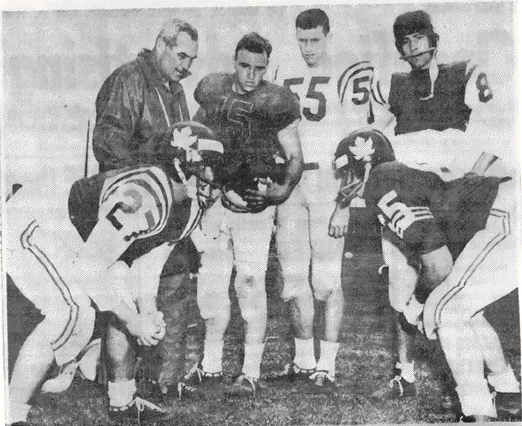 Leafs At Alouettes Camp: NDG Maple Leafs defensive stalwarts are pictured with Alouettes' head coach Jim Trimble at the Als recent Canadian Camp. Front Row, left to right: Pete Tellier, Bernie Rodtwitt. Back row: Coach Trimble, Ray Mader, John Wilson, and Andy Leveille.
Article from "Montreal Star" June, 1964
10 Canadians Invited To Al's Training Camp
Ten Graduates of the Alouette Canadian camp held recently at Jarry Park will work out with the Larks at training camp while another 10 prospects are pondering offers of football scholarships in the United States and Canada.
Two players, halfbacks Russ Martin and Dave Bowen, have been invited to the camp opening in Joliette next Monday while the other eight will report to Loyola College when the camp shifts on July 9.
Martin, a former Rosemount speedster now in the Navy, and Bowen, an NDG Maple Leaf grad attending Sir George Williams University, are both highly regarded by Alouette brass. Both figure in defensive half plans.
Players going to the Loyola camp are Ken Galloway (NDG), Gerard Ducharme, Andy Leveille (NDG), Bernie Rodtwitt (NDG), Bob Berry (Mount Royal) (Bob went on to star as an NHLer as a player with the Los Angeles Kings and coach), Fred Schmuck (Kitchener) John Rennie (Verdun), and Yves Delagrave (University of Montreal).
They will live at home in order to combat the rigid NCAA rules regarding professional football and therefore remain possible scholarship candidates.
Three others, John Soles of Quebec City, Jim McKean and Albert Phaneuf of Terrebonne Trojans, have been invited to the Loyola camp but only McKean, NDG's talented quarterback, is likely to attend because of travelling.
Phaneuf Eyed
McKean has been offered scholarships by three universities including Notre Dame while Soles also has several opportunities including Tulsa or Harvard.
Phaneuf, who reminds coach Trimble of Hal Patterson in size and moves, has been eyed by Kentucky and Tulsa.
Other scholarship offers include Quebec's Claude Remillard and Mount Royal's Jim Taylor by Kent State in Ohio, Ray Mader of NDG and Gary Mathers of Verdun by Rhode Island U and Ken Lefrancois of Montreal at Central Connecticut U.
Article from "Montreal Star" July 22, 1964
Rookie McKean Poses Threat
By Ian MacDonald
Jimmy McKean, an all-round athletic wonder from NDG is so close to making up his mind in favor of a professional football career that there wouldn't be a bet. As the bookies would say, "it's off the boards."
And when the sturdy 19-year-old gives the word, there are a couple of present Alouettes whose jobs will indeed be in jeopardy.
McKean is a quarterback. While leading NDG Maple Leafs to the Eastern Canadian junior championship last season, McKean was a rookie to the sport. But this doesn't tell a lot in this fellows case.
McKean is one of those types who appear to be able to play any sport with a touch of excellence. That one season at QB showed flashes of tremendous passing ability. At 6' 1" and 210 pounds, McKean has the power to bulldoze through tacklers when necessary. And the athletic sense appears inborn.
Here's a player who could make the grade as a basketball player in fast company. His exploits as a pitcher with NDG's junior baseball team cause scouts to dream if not drool. Friends speak in awe of McKean's mid-seventy shooting in golf.
There is no question that the Alouettes are keenly interested in the player. They don't want to hurt his education progress, however, and have not forced the issue pending his study of several athletic scholarship offers.
McKean appears to have made up his mind. Apprehensive at first about his ability to move in with the pros, McKean has gained confidence now after working with the team at Loyola. For the past two days, the young man has been booming punts as far and long as anyone at the camp.
What McKean's acceptance would mean automatically is a change in Ron Maddocks locked-in position as the team's Canadian QB. Also the kicking he has shown so far and the place kicking abilities to those who followed his junior campaign at NDG will attest, indicate that he could force Gino Berretta to recover the spark he showed at times last season or nimbly step aside.
Article from "Montreal Star" pre-season
Rookies Hold Key For Gridders
By Sid Priddle
Montreal's three entries in the Metropolitan Junior Football Conference are banking most of their 1964 championship hopes on a crop of rookies.
At least that's the word coming out of the pre-season training camps of the Easton Chargers, Town of Mount Royal Lions and the NDG Maple Leafs. Three Ottawa teams will play an interlocking schedule with the Montreal clubs. The league opens next Friday night with Easton facing NDG.
Normally an overload of rookie ballplayers should present a doubtful situation for any football club entertaining ideas of winning a championship.
However, one man who thinks just the opposite is NDG Maple Leafs defensive line coach Gerry Hogan. "The boys are coming to us much better coached and as a result we are able to teach them more technicalities of the game," says Hogan.
"Actually, inexperience in Junior football, that is, the actual inexperience of playing junior football - does not necessarily hurt a junior club providing they have been well-drilled in juvenile ranks."
Another belief is that rookie ball players, especially in the junior ranks seem to have more desire than a great deal of veterans. For example, in 1962 when the Leafs went to the Dominion final in Hamilton, the club had 23 rookies. They lost that one 7-3 to Edmonton. However, last year the club had more veterans and as it turned out they were stopped 47-3 by the same Edmonton team.
At the same time Hogan had another answer for the Leafs poor showing against Edmonton last year compared to the '62 result:
"The highest problem with juniors is the inability to adjust therefore a team will only be better prepared if they are subjected to a variety of offences."
The Leafs again are being touted as the team to beat and head coach George Economides figures he has a good eager bunch of rookies. In this way he agrees with Hogan, that rookies create more desire in a club.
Among the newcomers is Bruce Sutter, a tough tackle with Pointe Claire juveniles last year. Others include Bruce Johansson, formerly of McGill Redmen and quarterback Alfred Sicotte. Pete Regimbald, Baz Bark, Trevor Buddo, Bevan Carrique and Ken Galloway are among the veterans.
Ike Amromin, coach of the chargers, feels that inexperience will be his biggest problem although he does have four or five good veterans returning to the fold including late Alouette cut John Rennie. According to Amromin, his biggest find is rookie quarterback Jim Little, fresh out of Rosemount high school.
"In past years we have had mainly a running quarterback, but this kid Little can pass and run with equal ability," said Amromin.
It seems the Town of Mount Royal Lions will be suffering the most as far as rookies are concerned, although head-coach Lou Fournier feels that his club is coming along well.
The Lions, have only seven of a possible 23 veterans returning to the club, which means most of the starting lineup will consist of rookies. The Town lost three top quarterbacks through injuries in an inter-squad game and right now Wayne Lang, who played as a defensive half last year is handling the QB chores.
A couple of bright spots among the rookies are the Pare brothers, Yvon and Jean-Claude, both of whom played on the line in the Eastern Townships Football League last year.
Bill Marchitello, Bob Berry, and Danny Palov are some of the top veterans back with the team.
Article from Bishop's Gaiters Web Site
1964 Championship Football inducted into Bishop's Wall of Distinction
Sept. 9, 2006 – The Bishop's University Athletic department is proud to announce the induction of the 1964 Championship Gaiters Football Team into the Bishop's RBC Athletic Wall of Distinction.
With less than ten days practice under their belts, the Gaiters took on the highly rated N.D.G. Maple Leafs. Outplayed by their opponents throughout most of the game the better conditioned Maple Leafs sustained a last quarter drive to go ahead and win 27-20.
Jim Hamnett pursuing Bishop's QB
Article from "Montreal Star" October 16, 1964
Juniors In Final Grid Tilt
When the Edmonton Huskies ran roughshod over the NDG Maple Leafs in last year's Little Grey Cup final, the Leafs found out that a bashing offensive ground attack seems to be the best bet for a junior football club.
The Leafs are hoping for another shot at the Canadian championship mainly for the purpose of redeeming that 47-3 pasting from the hands of the Huskies.
Of course, the first thing at hand is to finish off the Easton Chargers in the Metropolitan Junior Football Conference final tonight at Trenholme Park and therefore represent Quebec in Dominion playdowns. Leafs hold a 25-9 edge going into this second game of a two-game total point series, but Leafs head coach George Economides isn't convinced that the chargers are dead yet.
The biggest weapon for the Leafs so far this year has definitely been the running game. Going by past records Canadian Junior football championship teams have relied a great deal on the ground attack and it makes logical reasoning that the Leafs should also fall into this category.
But in order to get that ground weapon clicking one must have two reliable guards and two men who have filled that bill for the Leafs this year are Trevor Buddo and Ray Mader. Both players are veterans of the Leafs and have been turning in outstanding performances this year. It isn't often that the linemen grab much of the glory, but certainly this pair deserve proper recognition for the Leafs' success so far this year.
Article from Montreal Minor Sports News, October 21, 1964
NDG Crushes Easton 54-6 in Junior Final
QB Purdie Sparks Attack as Maple Leafs Retain Crown
Sandy Purdie's best passing performance of the season plus four touchdowns evenly divided between Bob Gardner and Ken Galloway paced NDG Maple Leafs to a 54-6 victory over Easton Chargers in the second half of their two-game total-points playoff series for the Quebec junior football title.
The Leafs won the first game 25-9 at Morgan Park last Friday night. The score on the round was 79-15.
NDG will now advance to the sudden-death game for the Eastern Canadian Junior title against Ottawa Sooners. The game will be played at Trenholme Park, Sherbrooke Street, NDG, on Saturday, 24 Oct., kick-off 1 p.m. The Sooners reached the final by ousting Ottawa Trojans 19-0 and 38-13 in a two-game total-point series for the Eastern Ontario Championship.
Other touchdown scorers were Baz Bark, Al Schreiber, Joe Arcaro and Stan Schreiber.
Purdie was the instigator behind Galloway's two majors hitting the latter with end zone passes of 50 and 23 yards respectively. Gardner went over from the one and from the 15.
Purdie seemed to get better as the game progressed and clicked 65 and 27 yard touchdown passes to both Schreibers. Al's younger brother Stan was on the receiving end of the 27 yard effort. Jim Hamnett converted five converts. Purdie passed to Galloway for another.
The Leafs' defensive unit also played a strong game.
Article in The Ottawa Citizen, Oct 26, 1964
Sooners Miss By Point in Game Against Leafs
By Ron Covell
MONTREAL - A "rare" defensive holding penalty against Ottawa Sooners on a convert attempt was just one of several infractions that helped Montreal's Notre Dame de Grace Maple Leafs to the Eastern Canadian junior football final at Trenholme Park Saturday.
It came on the game's first touchdown and in the end proved the difference as the Maple Leafs defeated Don Holtby's Ottawa Sooner gridders, 21-20, in a sudden-death playoff.
It was the third straight time that the defending Eastern canadian champions had denied Holtby and the Sooners and the second by a narrow margin. Last year in Ottawa it was by a 16-12 count with Sooners on the eightyard line when time ran out.
The winners have drawn Windsor AKO in the final round. Windsor, a Rough Rider affiliate, eliminated Weston Invictus in Toronto.
Montreal opened the scoring in the first quarter when Bob Gardner tucked in a pitchout from quarterback Sandy Purdie at the Sooner eight-yard line and carried into touchdown territory.
The Play
Jim Hamnett was wide on his first convert attempt but Ottawa was called for holding. Hamnett was succesful on second kick and the point proved a costly one for the visitors.
Ottawa came back to narrow the count to 7-6 at the end of the first quarter on a 26-yard run by Connie Rioux. Rioux, Sooners best runner all day, took a handoff from quarterback Murray Kuntz and went all the way around right end.
Bob McCarthy, another stalwart for the losers, attepted the convert, but the kick was nullified for two many men on the field.
Sooner came to life in the second quarter and forged into a 20-7 lead on six-pointers bt Kuntz and McCarthy. Kuntz combined with McCarthy for the nicest touchdown of the game. He threw a beautiful 45-yard strike to the halfback to open up the scoring in the second stanza.
Leafs, who were staggering at the time, were almost out of the picture minutes later when Kuntz plunged over from one yard out to give Ottawa a 20-7 lead. Jack Boland converyed both times. The defending champs were able to recover, however, before the period ran out. Kingpin was quarterback Sandy Purdie who took to the air for the majority of the game.
Article in "Montreal Star", November 12, 1964
Maple Leafs Fail Again In Bid For Grid Crown
By Sid Priddle, Star Staff Reporter
CALGARY, Alta., Nov. 12- During the past football season: the NDG Maple Leafs had gained a reputation as a comeback club and yesterday afternoon at McMahon Stadium the Leafs almost did it again. Naturally, almost is not good enough and the end result was a third straight Little Grey Cup Championship for the Edmonton Huskies as they dumped the Leafs 48-27 in this annual Canadian junior football classic.
This marked the third straight year that the Huskies had defeated NDG for junior football supremacy. The Leafs had come out here this time last year and were blasted out of the park 47-3. On that occasion many of the players were accused of "quitting," but this was not the case on a Remembrance Day afternoon in this western city.
In fact the Leafs put on a terrific show as they attempted to come back after being down 34-7 at the half. The final result on the scoreboard doesn't give one much support far as praising the Leafs, but there was no doubt in the minds of 10,000 fans that this junior football club from Montreal comprised a game bunch of gridders.
Mind you the Huskies deserve full credit for their victory. They are a strong and well-drilled football team. They went about their business of winning in stylish fashion, jumping into a 21-0 lead before the Leafs knew what had happened.
Using well executed blocks to their fullest advantage and the strong running of fullbacks Ross Bradford and Gord Lund the Huskies pounded away at the Leafs with almost unbelievable ease during that first half.
It appeared that the Leafs were in for a repeat trouncing of last year's tussle here, only this time it looked as if it might be worse.
The two clubs went into the dressing room at the half and everyone in the ball park said the Leafs were doomed and were probably in for an even rougher second half.
Instead, however, the Leafs came out in that second half of this football battle and at one point trailed by only two converted touchdowns. And at this time the Leafs had the Huskies on the run. But then the roof fell in. Leafs were deep in their own end and quarterback Sandy Purdie, who ignited the Leafs' explosion with a fine passing display, dropped back into the pocket, faked once and rolled out to uncork the pass when defensive tackle Ralph Rasmussen busted through the Leafs' line and knocked the ball from Purdie's hand giving Edmonton first down on the Leafs' five-yard line. It was only seconds later when fullback Lund smashed over for his third touchdown of the afternoon. Other scorers for the Huskies were Tony Rankel and Gil Mather with two touchdowns each and Bradford.
It was Lund who mainly killed the Leafs with his strong off-tackle and around the end runs. The Leafs had been prepared to stop fullback Bradford, but it was Lund who broke out with the big plays including a 52-yard touchdown run in the first quarter. Jon Sterling booted three converts while Bradford took in a pass for another.
It was obvious that the Leafs biggest problems came in that first quarter as Huskies grabbed that 21-point lead.
When the Leafs did start their comeback they had everyone buzzing and the talk among the fans centered around the fact that the Leafs had on two-previous playoffs in the east made fantastic comebacks.
Allan Schreiber, another stickout with the Leafs, started the Leafs scoring while other touchdowns came from Bruce Johansson, Rick Fairbairn and Bob Gardner. Jim Hamnett booted two converts while Gary Mathers kicked another.
Despite the loss head coach George Economides praised his kids. "I'm really proud of these guys and they sure proved that they didn't quit."
Field coach Ian MacDonald chipped in "Purdie and Johansson played great games and stuck right in there until the end."
So once again, the third time in a row, the Leafs have lost the Little Grey Cup, but certainly this NDG team deserves credit for putting on a courageous show.
Huskies head coach Joe Hutton also praised the Leafs for their gallant comeback try by saying "Those NDG players are a great bunch of kids."
Article from "The Calgary Albertan" November 12, 1964
Huskies Make It Three Straight
Whip Montreal In Junior Final
by Dick Chubey
Edmonton Huskies built up a 35-0 second quarter lead and held off a surging Montreal Notre Dame de Grace Maple Leaf club to register a 45-27 victory in the Little Grey Cup game at McMahon Stadium Wednesday afternoon.
A crowd of 9,143 sat through the game in 32-degree weather.
It was the third time in three years the Huskies have captured the Canadian junior football title. They have defeated NDG all three times.
No other team has ever won the Leader-Post Trophy, symbol of junior football supremacy in Canada, three consecutive years, although the Saskatoon Hilltops won it twice in a row in the late 1950s before Huskies made it two in a row last year.
Huskies led 21-0 at the end of the first quarter and added two converted touchdowns in the second quarter before NDG found scoring touchdowns against Edmonton was possible. They didn't manage a major in their previous two meetings. Maple Leafs marched from their 17-yard-line for a touchdown and left the score 35-7 at the half.
The third frame saw Montreal outscore Edmonton 14-6. They each scored a touchdown in the final quarter.
LUND SCORES THREE
Fleet-footed halfback Gordon Lund scored three Edmonton touchdowns. Halfback Gil Mather scored two and fullback Ross Bradford and quarterback Tony Rankel added one each. Jon Sterling kicked five converts and passed to Bradford for another point after touchdown.
Montreal touchdowns came from halfbacks Al Schreiber, Rick Fairbairn and Bob Gardner and quarterback Bruce Johansson. Guard Jim Hamnett converted three.
Edmonton opened the scoring at the 6:07 mark of the opening quarter with Rankel plunging over from the two-yard line. Sterling converted.
The next time Edmonton got their hands on the ball Lund, who is also the Canadian junior ski champion, sprinted 52 yards for a major. The convert was good.
Huskies received touchdowns from Bradford and two from Mather before the Leafs removed the zero from their side of the scoreboard.
PASSING ATTACK
Quarterback Sandy Purdie, who split the pivot duties with Johansson, started an aerial bombardment of the Huskie defence which resulted in a pair of touchdowns that oddly, both started at the Leafs 17-yard line.
Purdie glued his eyes to number 74, his favourite receiver, Ken Galloway. On the initial TD march he hit the six-foot-two, 207-pound end three times for 55 yards. A pass in the end zone to Schreiber completed the drive.
Galloway pulled in a pair of tosses in the second scoring march from the Montreal 17. Johansson raced seven yards around the right end for the touchdown.
Galloway was the leading receiver in the game. He caught seven passes 110 yards.
Bradford and Lund led the rushers. Bradford ran 149 yards in 18 carries and rookie Lund went 143 yards. Lund handled the ball 15 times.
In the passing department Edmonton was eight for 15.
Purdie threw 31 and hit on 15 of them for 250 yards. Johansson went two for five.
Leafs tightened their offensive line in the second half when Huskies like Ron Forwick blitzed through in the early stages of the game.
A pair of Edmonton defenders suffered minor concussions in the game. Vic Justik and corner linebacker Lorne Garner were injured.
Summary
FIRST QUARTER
1. Edmonton, touchdown (Rankel) 6:07
2. Edmonton, convert (Sterling)
3. Edmonton, touchdown (Lund) 7:38
4. Edmonton, convert (Bradford)
5. Edmonton, touchdown (Bradford) 11:17
6. Edmonton, convert (Sterling)
SECOND QUARTER
7. Edmonton, touchdown (Mather) 3:30
8. Edmonton, convert (Sterling)
9. Edmonton, touchdown (Mather) 12:52
10. Edmonton, convert (Sterling)
11. Montreal, touchdown (Schreiber) 14:43
12. Montreal, convert (Hamnett)
THIRD QUARTER
13. Montreal, touchdown (Johansson) 4:20
14. Montreal, convert (Hamnett)
15. Edmonton, touchdown (Lund) 9:36
16. Montreal, touchdown (Gardner) 13:17
17. Montreal, convert (Hamnett)
FOURTH QUARTER
18. Montreal, touchdown (Fairbairn) :40
19. Edmonton, touchdown (Lund)
20. Edmonton, convert (Sterling)
Yardsticks
| | | |
| --- | --- | --- |
| | NDG | HUSKIES |
| First Downs | 22 | 29 |
| Yards Rushing | 83 | 407 |
| Yards Passing | 268 | 114 |
| Passes Made/Tried | 17/36 | 8/15 |
| Passes Intercepted By | 1 | 1 |
| Punts/Average Yds. | 9/30.2 | 6/40.0 |
| Fumbles/Lost | 3/2 | 2/2 |
| Penalties/Total Yards | 20/138 | 10/130 |

Article from "The Calgary Albertan" November 12, 1964
Hutton Has Praise For Beaten Leafs
By Dick Chubey
"I hope we can make a habit of it." said Edmonton Huskie rookie coach Joe Hutton after his team's 48-27 victory over the Montreal NDG Maple Leafs in the "Little Grey Cup" final at McMahon Stadium on Remembrance Day.
Hutton stood in the Edmonton dressing room with water dripping from his clothes. He had just received a free trip to the showers courtesy of his players.
The victory marked the third in succession for the Huskies in the Dominion junior final. They defeated NDG 47-3 last year and 7-3 in '62.
"This year's edition of the Leafs was the toughest we played in our three meetings," added the ex-line coach of the Huskies who moved up to head coach this year.
"Their offence is greatly improved. They didn't score a touchdown against us in the other two games. Galloway is a great end and hurt us on the short passes to the secondary," Hutton said.
In another corner of the room quarterback Tony Rankel peeled off his number 11 jersey for the final time with the Huskies. He will graduate because of the age limit next season.
"I would like to try for the Edmonton Eskimos next year if I get a chance but I have no immediate plans for football." Rankel said.
"Our team just wouldn't be beaten. Our guys are very cool when they are on the field and put forth their greatest efforts in executing their plays," added the five-foot-eleven, 185 pound veteran of four seasons with the Huskies.
Montreal centre Marvin Cannell entered the Edmonton den and pretty well summed up his team's loss.
"You guys have a great team. This was my third time against you in the finals and the third time we lost. But who knows, maybe we'll beat you yet," Cannell stated and then went around to congratulate the Edmonton players.
In another section of McMahon, Maple Leaf head coach George Economides puffed on his cigar and said: "It was a lot more gratifying the way we lost this year than in the previous two. The wind hurt us in the first quarter and we fell behind 21 points."
"Also when (Ralph) Rassmussen stole the ball from Sandy (Purdie) in the fourth quarter it really hurt us because his (Purdie's) receivers were wide open," added the veteran Montreal coach.
"Our offence played fine but our defence allowed them 48 points and that's what counts."
"But what a comeback we made. You don't see that very often in any football, even in the NFL," said Economides. And he took another puff on his stogie.
Column from "The Calgary Albertan" November 12, 1964
Junior Appeal
by Hal Sigurdson
There's something about junior football that can be captured at no other level. Walk into a junior dressing room and suddenly you're reminded that this is what sport is really all about.
The pros are better, of course. Most college and senior teams probably are, too. But you'll walk a long mile before you find a bunch of kids who enjoy the game quite as much just for the sheer hell of it.
There's no paycheck to worry about, preciously few co-eds to impress and probably most are realistic enough to know that a professional future awaits only a select few.
Still, I can't feature any of the 9,143 gathered at McMahon Stadium Wednesday afternoon asking for their money back. They watched Edmonton Huskies become the first team in history to win the national junior championship three times in a row. They also watched a team called Notre Dame de Grace Maple Leafs get considerably outplayed, but rarely outhustled. But most of all they saw an object lesson in enthusiasm.
Before the Maple Leafs really knew what had hit them, the well-drilled Huskies were in front 35-0. Over the years I've seen a lot of professional teams throw up their hands and say "what's the use" after falling behind less than that.
The Leafs didn't. They scrambled back to outscore the Huskies 27-13 the rest of the way. Their chances of winning were zero but they hadn't traveled 2,500 miles to quit before half time.
Future Delivery
The Huskies, however, showed up with the superior weapons. Some of them were a quarterback named Tony Rankel, a halfback named Gordon Lund and a fullback called Ross Bradford. They also had a meaty defensive lineman called Ron Forwick who did the cause no harm at all.
In future years the best of all may be Lund, a 19- year-old who runs with the sure-footed grace of a Leo Lewis. Edmonton Eskimos coach Neil Armstrong was watching from the press box and I thought I detected a special glint in his eye when Lund carried the ball. If the rangy youngster decides to have a whirl at pro company, the Eskimos have first call.
Lund and Bradford led a running attack that stunned NDG with 407 yards. Bradford ran 149 yards and Lund 143. Lund's total included three trips into the end zone. On the other side, the Leafs showed a lot of grit and an elongated end named Ken Galloway who picked off seven passes for 110 yards. They also had a game little back named Al Schreiber who may one day receive a favorable glance from kindly eye of Jim Trimble. In the Edmonton dressing room even an unscheduled trip to the showers couldn't dampen coach Joe Hutton's enthusiasm. Joe has been associated with all three Edmonton champions, but this is his first year as head coach.
More To Come
When the UAC Dinnies spirited Denny Kadatz away from Huskies' camp after last season, the reins were turned over to Joe and the Huskies' performance Wednesday proved no mistake had been made.
Hutton had 18 first-year men in his lineup. Eleven won starting berths, but the youngsters carried on the traditions established earlier by Kadatz-coached teams.
Unless somebody puts a great junior team together in a hurry, the Huskies' string could get longer. Eight of the Huskies - Rankel, Clare Johnson, Bradford, Ron Malicky, Warren Hansen, George Spanach, Jon Sterling and Forwick - have played for all three championship teams. Most won't be back next year, but Hutton still has the nucleus for another winner.
To be continued
Article in "Montreal Gazette" August 12, 2006
Bark Left Mark on Als, Stamps
By Ian MacDonald,
A couple of changes early in his football career turned out to be positive moves for N.D.G. product Basil Bark.
After two seasons as an outside linebacker with the Alouettes in 1966 and '67, Bark changed positions, moving to centre. He went on to earn Eastern all-star honours twice at that position with the Als.
But after five seasons with the Als, the second change came when Bark was traded to the Calgary Stampeders for receiver Terry Evanshen, a Point SI. Charles native who would later be enshrined in the Canadian Football Hall of Fame after twice being selected the CFL's outstanding Canadian.
Bark was named a Western all-star twice with the Stampeders.
"That was a good trade," Bark, 59, said in a recent telephone Interview from his home in placeCityCalgary. "The Alouettes got a good receiver and the Stampeders got me."
The trade to placeCityCalgary proved to be a godsend for Bark. While playing with the Stampeders, he also started out in what has become a successful career in the business world.
"The change of positions (to centre) was easy," Bark said. "i was a linebacker at school (Monkland High), but my secondary position was centre. And ever since i was a kid, 14, I could make the deep snaps. So switching to centre was perfectly natural."
There was another reason for Bark's position change besides that ability.
"As a linebacker in '65 (his first year with the Als as a 19-year-old), I was 6-foot-3 and weighed 215 pounds. Two years later, I was 6-foot-3 and weighed 250," Bark said. "That made me a natural lineman - perfect for centre."
But Bark wasn't too excited at first about his trade to placeCityCalgary in 1970.
"My first year there, we won the West, but lost in the Grey Cup to the Alouettes (23-10 in placeCityToronto)," he recalled. "I didn't want to go back to placeCityMontreal because I knew I'd have to take a lot of razzing from my friends. But the next year, we won the Cup (beating placeCityToronto 14-11 in placeCityVancouver)."
Bark didn't take long to start making headway in the business world, and it was football that led him down that path.
"I became good friends with the Forzani brothers (Tom, Joe and John, all three of them stars with the Stamps at the time)," Bark explained. "I became a founding partner of the Forzani Company in 1974. They became the largest sporting-goods retail company in placecountry-regionCanada, doing one billion dollars of business a year.
"I went through all the growing pains with the company until 2000," he added. "At that time, I left the corporate side of the business and ran several Inter Sport stores, which belong to the Forzani chain. Right now, I have eight stores in placeStateAlberta."
Bark also remains directly involved with the Stampeders. John Forzani is one of the team owners and Bark owns the rights to Stampeders merchandise sales at the stadium.
Bark and his first wife, Beverly Talaisy of N.D.G., have two daughters. Kristina, 30, teaches at the placePlaceTypeUniversity of PlaceNameCalgary, and Katlin, 23, has just completed her nursing training.
Bark also has a 9-year-oid stepson with his current wife, Terri, and says "he'll be starting football this fall."
As a youngster, Bark lived on Somerled, near placeCityCumberland. Besides playing football at Monkland High, he played for one season with the N.D.G. Maple Leafs, who were coached by George Econimedes. He had played water polo as a youngster and also enjoyed wrestling and basketball.